The world of cricket memorabilia is a varied and fascinating area for fans to indulge in. Those with a passion for the game will often collect photographs, books, bats, balls, clothing and collectable ceramics or prints. Perhaps the more interesting items were those with a personal connection to a player or team, or items worn or signed by players from an era before one day or T20 Internationals. An age where players travelled weeks, sometimes months, on ship before they even started a match; when they did start they played all three or four days as it was then and the game was still a draw.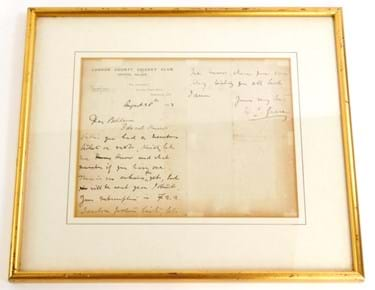 Such pieces sold by Golding Young and Mawer often come under the category of ephemera. They could quite easily have been thrown away or disregarded, but were remarkably saved at some point in their history. A collection of 19th century cricket score cards, often filled in by spectators at matches, record the result or were simply given to young boys to keep their interest while their father watched the game (authors personal recollection!), made well in excess of £1000 at Golding Young's Grantham saleroom. On a similar vein, signed team sheets from the Australia tour of England in 1948, including Ray Lindwall, Miller, Dennis Compton, Len Hutton and Godfrey Evans, made £380 in a sale.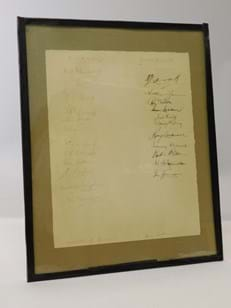 The name of WG Grace is perhaps the one that would spring to mind when talking about the era of the early game. Doctor WG Grace (1848-1915) was important in the development of the game and was one of crickets greatest players. The letter signed by Grace to be offered in the Lincoln sale on the 17th March, although quite rudimentary in asking for subscriptions to be paid, is expected to make in excess of £80 in the online only auction.