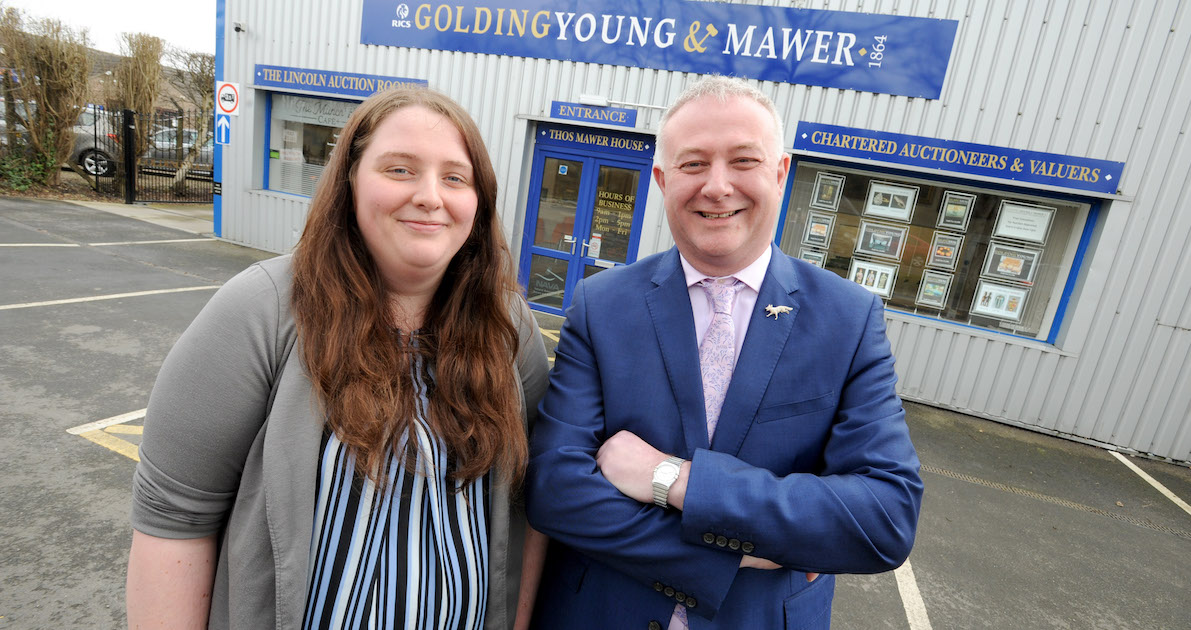 Kirsty Young & Colin Young
Associate & Managing Directors
Since 1864 our family owned business has offered expertise in auctioneering and valuation for an ever expanding product range from traditional Antiques, Fine Art, Jewellery, Gold & Silver to virtually every field that excites Collectors' in today's market. We also handle sales of machinery and a diverse range of business assets.
All sales are underpinned by consignments from up to 1,000 private clients selling with us every month and of course, by providing the region's most comprehensive House Clearance Service.
Based in Lincolnshire with salerooms in Bourne, Grantham & Lincoln and offices in Louth and Stamford our dedicated, knowledgeable team of over forty experienced staff offer a comprehensive range of services including valuation & appraisal, transport & removals and of course Global online auction sales at Golding Young Live.
Being a firm of Chartered Auctioneers & Valuers means that we have not only qualified to the highest standard in the profession, but  have to maintain those standards. The first due diligence check any professional makes when needing a formal valuation, or simply selling at auction is for The Hallmark of a Chartered Auctioneer & Valuer - Regulated by RICS.
All of our technical staff are members of either RICS, NAVA, or SOFAA.
So, what exactly do all these letters mean? Well, let us explain why we are the choice of firm for you.
RICS – The Royal Institution of Chartered Surveyors is the professional body that has been responsible for The Auctioneers Charter since 1970. All members have to complete at least 20 hours CPD or Continued Professional Development every year. Among other compliance, they regulate us for:
Professional Practice. All valuation work is prepared to the RICS Red Book requirements incorporating the International Valuation Standards (IVSC)
Client Accounting. All client money has to be held in dedicated, ring-fenced accounts with a full audit trail.
Complaints Handling. We have to adopt a formal Complaints Handling Procedure with independent third party redress through The Property Ombudsman (TPO) to protect genuine complainants. Download a copy here
NAVA Propertymark - The National Association of Valuers and Auctioneers are an important body within the auctioneering and valuation profession, specifically in our case relating to the sale of chattels or personal property.  All members have to complete at least 12 hours CPD or Continued Professional Development every year. They work with auctioneers and consumers alike, to offer regulation and guidance. Membership also provides for Primary Authority with Trading Standards to ensure clarity and understanding.  Colin Young was NAVA President for 2017/18.
SoFAA - The Society of Fine Art Auctioneers, formed in 1973, as the name suggests, is a society that exclusively represents the interests of the leading fine art auctioneers in the UK helping them provide the best service to clients.
With this level of qualification and accreditation within the firm we pride ourselves on providing a reliable and professional service to get it right. If you perceived that we did not, Regulated by RICS means that someone will listen, help and ultimately you will have a right of redress.
Golding Young & Mawer have been helping people for over 155 years. Give us a call today or simply fill out our enquiry slip and one of our specialist qualified team will be in touch.