The firm of Moorcroft is perhaps the most famous of Britain's Art Potteries. It was established by William Moorcroft (1872-1945) in Burslem, Stoke on Trent, Staffordshire, in 1913. William had previously worked at the large and influential firm of Macintyre from 1897; there he set up his own world wide acclaimed studio, famous for its tubelining and hand painting. However, in 1912 the owners decided to close down the studio in order to refocus the emphasis of the business back to its previous ranges. William as a result opened his brand new factory a year later, producing ranges in conjunction with Liberty, and gained a Royal Warrant from keen collector Queen Mary in 1928. Following William's death the factory was passed to his son Walter, who retired as Director of Design in 1987.
Here at our Lincoln Saleroom we are selling one of the most comprehensive collections of Moorcroft and Cobridgeware to have come on the market in Lincolnshire in recent years. The Marketing Director of Moorcroft, Catherine Gage, has described the collection as 'truly beautiful' in recent correspondence. The pieces range from early Macintyre Florianware, to items purchased directly from the factory during the last twenty years by well known designers such as Rachel Bishop, Sally Tuffin and Emma Bossons.
Also consigned from the same collection is a vast range of Beswick and Cobridge ware. Cobridge ware was established in 1998 by the owner of Moorcroft , Hugh Edwards, and was located around two hundred yards from the Moorcroft factory. The pieces were designed by both factories and shared some of the same designers until its closure in 2005.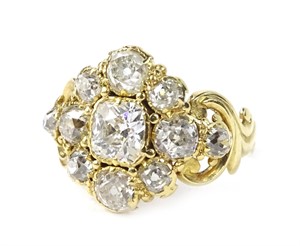 Elsewhere in the sale is a collection of around ten air rifles and items of maritime interest (30-40 lots), including ship propellers, lamps and other similar items. A good range of modern garden statuary (40 lots) have been entered from a property in Lincolnshire. Perhaps the most intriguing piece in the sale is a diamond cluster ring. This ring carries the provenance of Florence Wartski, believed to be a member of the family of the famous royal jewellers of the same surname. The ring which has approximately 3 carats of diamonds is expected to make in excess of £2,500 in the auction.

For further details and descriptions please visit our catalogue page.