For over fifty years renowned jewellery designer Elizabeth Gage has produced distinctive and highly  sought after jewellery ranging from earrings, brooches, rings, bracelets and necklaces ; her avant-garde pieces are strongly influenced by historical designs, largely medieval and renaissance in style, and feature opulent stones and baroque pearls set in  18ct or 22ct gold and white gold. Handmade in London, Gage's jewellery is revered worldwide for the craftsmanship of the pieces, as well as her innovative designs.
Elizabeth trained for six years as a goldsmith before earning a major commission with Cartier in 1968. Elizabeth has since been awarded a De Beers Award for her Agincourt ring in 1972, the Queen's Award for Export Achievement, the Retail Jeweller Lifetime Achievement Award and has items on permanent display at the Victoria and Albert Museum in London. In 2017 Gage was awarded an MBE in the Queen's Birthday Honours List.
Golding Young is pleased to offer three pieces of Gage jewellery in our forthcoming sale on Wednesday 6th April at the Grantham saleroom. The consignment from a single vendor comprises a pair of 18ct gold and aquamarine earrings, an 18ct gold and enamel 'kiss pin' brooch, and an 18ct gold and white gold 'Templar' ring . Each item is sold with its original green leather gilt tooled box, which enhances the purchase of each piece as the boxes are just as beautiful and well crafted as the jewellery within.
The last items of Gage jewellery sold at Golding Young were in 2016 (scorpion ring which sold for £440) and 2018 (pair of diamond and pearl earrings which sold for £2000), shown below.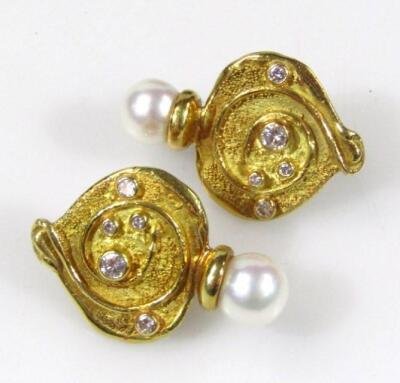 So now is the time to pick up one of her fabulous pieces to either add to, or possibly start your own collection!