Clarice Cliff is regarded as one of the most influential and revered ceramics artists of the twentieth century. Cliff was born on 20th January 1899 in Stoke on Trent and started working in the potteries at just 13. When she was 17 she moved to AJ Wilkinson's pottery factory where at the age of 28 she was given her own studio. While women in 20thC potteries were often tasked with hand painting pottery: outlining, banding or filling in designs, Cliff modelled figurines and vases, hand painted her designs, and kept pattern books.
Cliff launched her famous 'Bizarre' wares in 1927. Strongly influenced by abstract geometric Cubist designs, Cliff's range was hugely popular; in 1930 a separate decorating division to her studio was set up to meet demand. The Ravel pattern was produced between 1929 and 1935; painted with an abstract design in green, orange and black against a pale yellow ground, the pieces are thought to have been inspired by the French composer, pianist and conductor Maurice Ravel who in the 1920s and 30s was regarded as France's greatest living composer.
Golding Young was pleased to offer a collection of Clarice Cliff Bizarre Ravel pattern wares in its recent sale on the 9th March at the Grantham saleroom. The single owner collection sold above estimate, with pieces such as a coffee can and saucer selling for £130, and trio also for £130. The conical pieces in the range were highly sought after, with a jug selling for £100 on the day and a bowl for £130.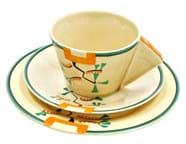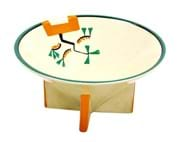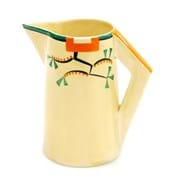 Patterns other than the Ravel have also historically sold well at auction, with a Bizarre sandwich set comprising a rectangular tray and six plates selling for £300 at the Lincoln saleroom in 2019, and a Clarice Cliff Moonlight pattern globular vase, shape number 370 selling for £150 also in 2019, despite there being condition issues with the piece.