Lincoln is due to host both their Collective and Fine Art sales this week, with a vast array of lots (over 1,500) there should be enough to tickle everyone's fancy; with Christmas only around the corner, it is time to start buying!
The week kicked off with our busy Sunday viewing for both sales. This allowed everyone to get a real taste of the sale and what it has to offer. Viewing will continue on Tuesday 20th from 10am-4pm, with special guest Paul Martin from BBC's Flog It coming along to promote his new book and offer everyone the chance to buy a signed copy!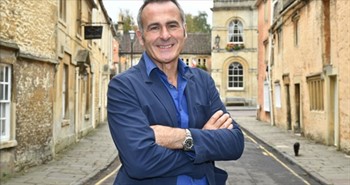 Paul will be in the gallery at our Lincoln Auction Rooms from 2pm-8pm to offer an insight into what his book has to offer. No appointment necessary, just come along for your chance to meet him and get your signed copy. Viewing for our Fine Art Sale within this area will also be available during these hours.
The first day of our two sales brings us to Wednesday 21st November and the Lincoln Collective Sale which includes instructions from the executors of Patrick Wright (Dec'd), 12 Drury Lane, Lincoln & others. Whether you are looking for something new or old, we are the saleroom for you. To kick us off is Lot 1 an Edwardian mahogany breakfront bookcase.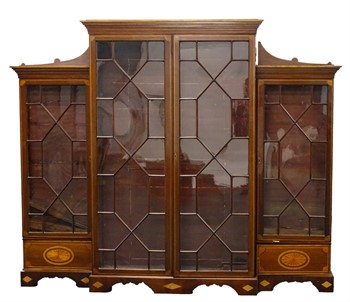 This bookcase measuring 213cm high and 250cm wide will have a phenomenal impact in any room. The astragal glazed doors further broken up by the wooden inlay allows for a powerful impact wherever the item is placed. This is just the beginning of the furniture section within the sale, with modern furniture alike.
An item of local interest is Lot 220 Wild (Charles), an illustration of the architecture & sculpture of the Cathedral Church of Lincoln.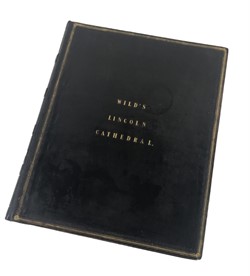 Estimated at £80-£120 it is the perfect lot to aid looking into the local history of Lincoln and Lincolnshire.
The over 900 lot sale certainly has plenty to offer from jewellery, silver, ceramics, furniture and much more, don't miss out! Come along and view the sale for your chance to bid.
The second day brings us on to the evening sale on Thursday 22nd November at 6pm, with viewing from 2pm-6pm. The over 300 lot picture sale hosts an array of artists from local and worldwide.
A particular collection of note is that of Herbert Rollett starting from Lot 3173:3199.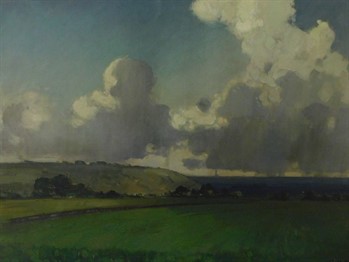 Within the Lincolnshire section of this sale, there are a number of his pieces of woodland landscape scenes on offer. Artists such as Colin Carr & William Bartol Thomas are also featured.
However, the works on offer stretch much further than Lincolnshire alone with artists from the 20thC such as Peter Brannan, Fred Taylor, Nils Pederson Mols and many more.
A particular favourite of the sale is Lot 3003 John Emms (1843-1912) Hounds and a terrier.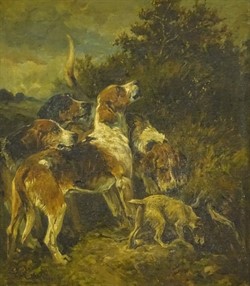 This signed oil on canvas estimated at £1,500-£2,500 is an excellent example of John Emm's work, with Lot 3021 also by the same artist. If you're a John Emms fan, then this sale is undoubtedly for you.
The year of sales does not end here with the following four dates still to go:
Grantham Collective Sale – Wednesday 28th November
Bourne Collective Sale – Wednesday 5th December
Bourne Transport & Toy Sale – Thursday 6th December
Lincoln Collective Sale – Wednesday 12th December
At this time of year whether you are buying or selling we are the place for you. Either to help aid the financial burden by selling some items, or by helping you select that perfect gift from one of our sales. Why not pop in and see us today.