The two day Collective and Asian Art offering at The Grantham Auction Rooms on 4th March oozes with the variety, class and rarity which only good consignments can bring. This sale definitely needs to come with the subtext, 'something for everyone'. We have rhinoceros horn paddles, 17th Century refectory tables, massive collections of modern ornaments, Lladro, Doulton, huge varieties of modern and Victorian jewellery, silver, gold, jade, amber, collections of Roman, Saxon and later medieval bronze finds, axe heads and so on through to collections of paintings from artists as diverse as Walter Lee and Terence Cuneo. The sale is bulging with well over 1,000 lots.
There are two lots within the sale however, that although quite different, ask a number of very similar questions. How can you value a personal item? How valuable is a historical viewpoint, when that viewpoint is unique? What creates an important opinion and how do you place a value on such a thing?
Lot 1 in the sale is a World Tour diary from 1871-1872, which appeared for valuation earlier in the year. The author is a CE Brightwen, obviously a man of some means as he spent two years travelling the world. He is decidedly not a household name so who, therefore, cares what he thinks? It is only when we assess what he is describing that we realise just what an important document it is.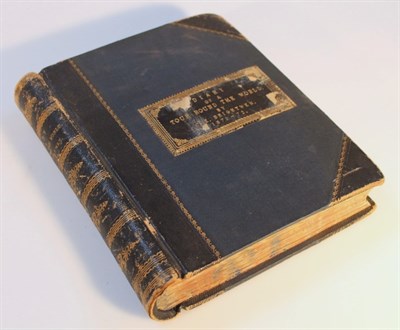 A full and firsthand account of the Chicago fire of 1872 is described, with before and after images and a description of the horrors that this eyewitness saw. Early pictures of Montreal, New York, Tasmania, New Zealand, Canada and Hawaii to name but six are beautifully detailed with annotations describing the great many places visited. Early Australian and American history are two of the collecting areas currently in vogue and page after page describe this journeyman's great adventure in these countries. What is illustrated is also of exceptional importance; early images of Grand Central Station, Wall Street and scenes of Sydney far removed from how it is known now. This is real, tangible history and described firsthand, making it a rarity.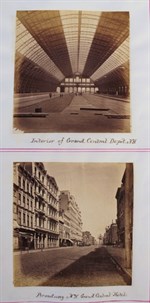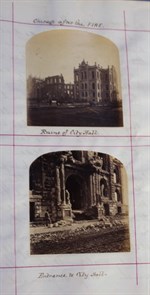 The importance of this book cannot be underestimated. Only a hint of the gems inside can be guessed at by the modest gilt stencilled boards and crude title piece. The other question this diary raises along with those asked above is ... where will you find another? In this case, the simple answer is, you won't. Do not miss this opportunity.
Our second lot is lot 38, a World War II medal group. This in itself is obviously poignant but hardly valuable. Initial thoughts here though are deceptive and again, as with the World Tour diary, the importance is in the detail. What the recipient did and the fact much is described in the associated ephemera included in the lot makes this a very important historical item. As with our CE Brightwen travelling the world with his diary, the recipient of these medals, Air Gunner RC Day, is not a household name but worthy of attention nonetheless.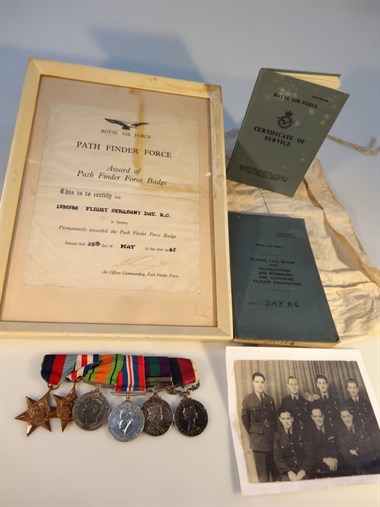 The medals themselves are impressive; the 39-45 Star, Germany Star, Campaign and Victory medals, one for Good Service and the General Service medal 5th issue with Malaya clasp show an accomplished and brave soldier. The frustration with a single medal group – especially from World War II – is it is often difficult to know the recipient, let alone why they were awarded them.
It is the associated ephemera included in the lot that makes it so special. Starting with RC Day's logbook we can glean he was a rear gunner based mainly at Coningsby, Metheringham and Syerston. He flew in Lancaster raids of Horten Harbour, Danzig Harbour, Dortmund, Bohlen, Lutzendorf, Wurtzberg and many others night after night. When he wasn't in actual attacks picked out in his logbook in the dreaded red pen, he was in practice, conducting Air Tests or on non-raids throughout Europe –all fully documented and described. His post war RAF booklet is included, again fully documented, we have his Path Finder certificate and even a photographic print of the men himself. Being able to put a face to the medals is key.
As with our World Tour diary, this lot has class, rarity, condition, individuality and importance and once sold, will probably never come up for sale again in a generation. True museum pieces are hard to find but this sale at The Grantham Auction Rooms has two lots that quite easily fall into this category. History is going under the hammer on 4th March and no one should miss this opportunity.
The sale will be held on 4th and 5th March at The Grantham Auction Rooms, commencing at 10am, with the Asian Art Sale at 7pm on 4th March. Viewing is on Tuesday 3rd March from 10am to 4pm and on each saleday from 8.30am to 10am.