A George III oak cased longcase clock by that most renowned of makers John Wood (1753-1811), graces the next Grantham Collective Sale on July 4th and 5th.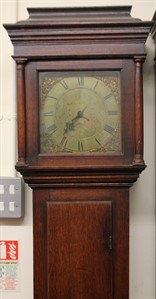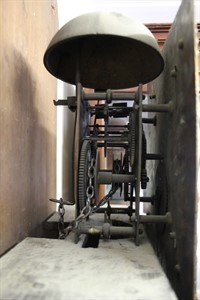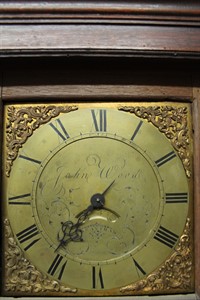 The more eagle eyed viewers will remember a bracket clock by this esteemed local maker making £2800 on April 1st (no joke) 2015. His work is rare, early, local and of the highest order. This 30 hour longcase is produced in a good sized oak caddy topped case with a 24cm backplate, it is small and desirable. It has raised brass spandrals, a date aperture all enclosing a good quality and almost original movement. It has the hallmarks of being a seriously good country clock from a seriously good country maker.
Damage is at a minimum, it is indeed a brilliant investment especially in this environment, if you're going to buy one, buy one form the best local makers going. A clock of this type, with its local links and good size say 20 years ago would've comfortably topped the £800 mark, things have reduced markedly since then and it really needs to be bought. We would be surprised if it made £300 but at this figure it is worth every penny and for this you can be the proud owner of an important local item, which juxtaposes nicely with the modern interior.
The Grantham Collective Sale is on July 4th and 5th includes over 1100 live lots, with viewing Tuesday July 3rd 10:00am – 4pm and from the morning of each sale 8:30am – 10:00am.