The name Black Forest generally conjures up two things at this time of year; either the Black Forest gateau consumed over the festive period or a holiday destination famous for beautiful scenery and snow capped mountains. It is the latter that started an industry in the early 1800s in the region and in particular Switzerland. Carvers started to produce pieces to sell to the ever growing tourist trade and in particular pieces that had an association with the region. It became so popular pieces were featured in the Great Exhibition in London in 1851, the Centennial in Philadelphia in 1876 and the Chicago World fair in 1897. The significance of the latter is still relevant today, as there is a huge demand from America for carvings of species native to the United Stated.
Golding Young & Mawer's Collective Sale at The Lincoln Auction Rooms on the 21st of December has two such pieces. A small seat or bench carved with two upright bears for supports (estimate £800-1200) and a similar umbrella stand (£400-600). Each piece also comes with the provenance of Lady Rozelle Raynes of Thoresby Park, having sat in her entrance hall for a number of years prior to her death in June 2015.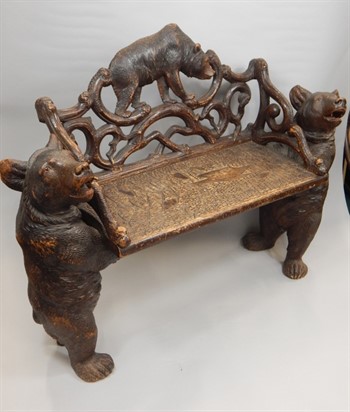 The sale also includes a very rare Van Ingen and Van Ingen of Mysore taxidermied leopard carrying the inscription on its brass plaque 'Master Edwards was only 14 years 7 months when he shot this leopard, prior to its death this animal had killed at least five people in Jeypore, Orissa, Southern India 1946.' The leopard is well documented in Van Ingen records as being mounted in 1948 and also repaired in the early 1960's. Perhaps the most unusual aspect of the piece is that it is a four quarter mount showing not only the head and neck but also the chest and front legs, giving a much more realistic effect when mounted on the wall. Consigned from the same collection from North Lincolnshire which featured in Golding Young & Mawer's sale on the 1st of October, it is likely to generate interest worldwide and carries a presale guide in excess of £1000.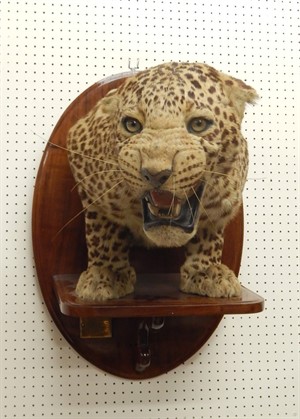 Also included in the sale of well over 1000 lots will be an early 20thC rocking horse made by Lines of Belfast. Completely restored four years ago and now in immaculate condition it is expected to make in excess of £600 in the action. The perfect last minute Christmas present for any child or grandchild! Items from Russia are also among the highlights of the sale with perhaps the most notable piece being a Kornilov Brothers of St Petersburg porcelain figure of a lady with a basket, expected to make between £1500 and £2,000.
Coins and watches make up over 100 lots in the sale, such as a Gold Jaeger Le Coutre Powermatic gents wristwatch (£800-1200) and an 18ct gold pocket watch - just two highlights in a very varied and eclectic auction.
The most historically significant item in the sale is a Morse code key, effects and photographs, formerly the property of Stanley Lulham. Mr Lulham was a telegraphist on H.M.A.S Moresby during the Japanese surrender of Timor on the 11th of September in 1945. Consigned by a local Lincolnshire vendor who purchased it directly from Mr Lulham's family after his death and it is estimated to make £1500-2000 in the auction.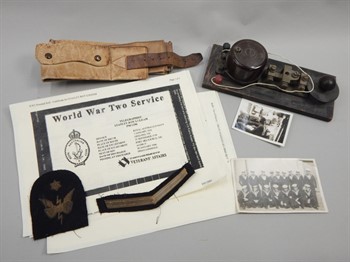 The Collective Sale will be held on Wednesday 21st December at The Lincoln Auction Rooms from 10am. Viewing is on Tuesday 20th December from 10am until 4pm, and from 8.30am on