From prehistoric times wildlife has inspired art the world over. Some of the earliest paintings are to be found in the caves of Lescaux in south west France, with pictures of horses estimated to be over seventeen thousand years old. Since then all manner of creatures have inspired the porcelain of China, the paintings of the Renaissance and primitive tribal carvings.
The next auction at the Golding Young Collective Sale at the Bourne Auction Rooms on Wednesday 10th February features a number of wildlife inspired lots. Leading the way is a charming bronze by the sculptor Antoine-Louis Barye (1796-1875). A renowned animalier or sculptor of animals, his works can be found in museums the world over, and a bronze cast after the great man, is offered as Lot 300 in the February sale. It depicts a springer spaniel patiently guarding a mallard brought down in a shoot, and is raised on a naturalistic rectangular base. It is expected to realise in the region of £200-300.
Whilst the French artists, like Barye, of the Barbedienne School were known for the production of pure bronzes, in Vienna, Austria, sculptors like Franz Xaver Bergman (1861-1936) were to achieve fame for making bronze figures of animals and birds which were cast but then subsequently over painted to give a more naturalistic appearance. Such was Bergman's popularity that he has inspired copies and even fakes up to the present day. Two cold painted bronzes are also to be offered at the Bourne sale. Both dating from the latter half of the 20th Century, one shows a snipe and is mounted on an onyx stand (lot 291), whilst the other shows a pair of perching grouse (lot 292) and again is mounted on a stepped onyx base.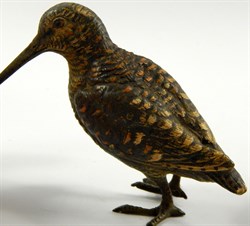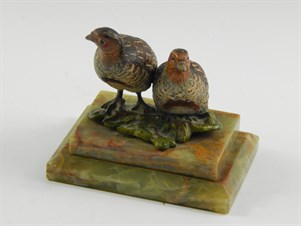 So, if the aforementioned is the sublime, then where is the vaguely ridiculous? The answer is sporran, or more specifically a Beaver sporran (lot 293). A rather endearing leather backed and lined sporran has the lid formed as the head of a beaver, with two of its claws forming the pouch. Not to everyone's taste, these are, nevertheless, highly prized north of the border.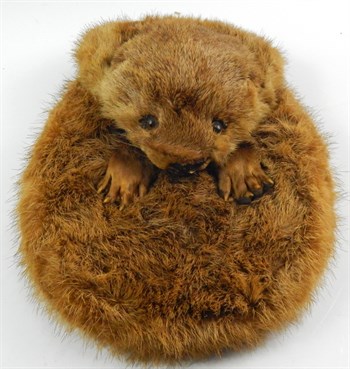 Elsewhere in the Bourne Collective Sale can be found an array of fascinating objects from the automobilia sale, good silver including a pair of Victorian entree dishes, interesting ceramics and furniture, the latter highlighted by a lovely harlequin set of nine 19th Century yew and elm Windsor chairs, and a Victorian mahogany extending dining table with four additional leaves. Finally for the discerning buyer who has everything - well almost - why not treat yourself to a fabulous Louis Vuitton cabin trunk. It has an estimate of £1000-1500.
The sale is on Wednesday 10th February, commencing at 10am. Viewing is on the Tuesday from 10am to 4pm, and on the morning of the sale from 8.30am.