Christmas seems to come around all too soon for some; in the case of our Grantham saleroom it's 8 months too soon!
Consigned by a local private collector the auction will include a piece showing very much how Father Christmas used to look. A clockwork walking figure of Santa shows him dressed in a brown costume, very much in keeping with the 19th century concept of him. It was commonly thought that the Coca Cola company began to use Santa in their advertising and changed his costume to their company colours of red and white, although studies have revealed that towards the end of 19th Century the cartoonist Thomas Nast painted him in red and sometimes in green. The automaton figure is almost certainly made at the Ives toy company from Connecticut USA and is expected to make in excess of £300 in the auction on Wednesday the 4th of April.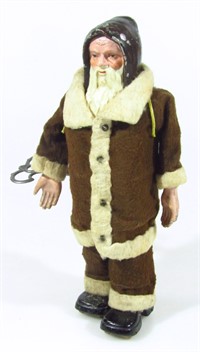 Also included in the two day sale will be in excess of 100 Royal Doulton figurines and other collectable ceramics such as Beswick, Pendelfin, Lladro and Moorcroft, including an early piece of Florianware and items decorated with the sought after Fruit and Berry pattern.
A healthy section of silver, jewellery and coins make up a fair percentage of the eclectic auction with a number of 22ct gold coins included, ranging from sovereigns priced at £200-300 up to £5 coins valued in excess of £700.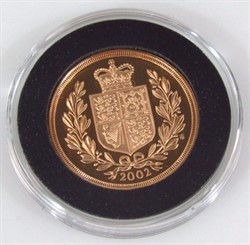 In the silver section a collection of tea caddy spoons are one of the highlights, each showing not only huge collectable appeal but also historical interest, mapping the development of the caddy spoon from Georgian times through to the end of the Victorian era.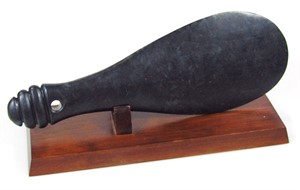 The second day of the sale on Thursday the 5th of April consists of Asian and Tribal Art, as well as general china, glass and effects. Highlights are a number of South Sea Islands tribal pieces to include clubs, swords, cups and other highly sought after decorative items. The usual Chinese and Japanese items of porcelain, pre 1947 ivory and works of art feature heavily in this well supported quarterly specialist sale.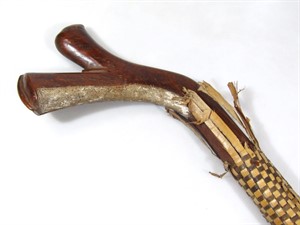 The Collective Sale at The Grantham Auction Rooms is on Wednesday 4th April from 10am. Viewing is on Tuesday 3rd April from 10am to 4pm, and on saleday from 8.30am.