With time running out, there's only 9 shopping days left to buy your Christmas presents ready for the big day.
Why not swap the push and shove of the Christmas crowds for the sound of the gavel at the Bourne Auction Rooms on December 21.
With over 600 lots you're sure to pick up a bargain or two whilst relaxing over a hot chocolate or a bacon sandwich.
A good Christmas present opportunity is a lovely collection of 25 quality watches, including names such as Rolex, Omega, Longines, Tudor and Audemars Piguet.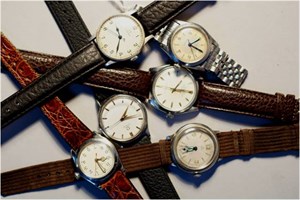 Featured within the collection is Lot 21, an Audemars Piguet 18ct gold gentlemans dress watch. The thin nature of this elegant watch makes it not only a good investment, but an unobtrusive watch to wear day after day.
Also in the collection is Lot 20, a Rolex Oyster Perpetual Date watch from 1962. Rolex have long been recognised for making quality instruments for professionals, perfect for the achievers in your family.
Bourne saleroom manager, Alastair Mc-Phie Meiklejon said:
"I think good quality watches are rather special; it's like having a heartbeat on your wrist. Anyone can go along to a high street store and pick up a watch as a present for Christmas. But owning one of these is something out of the ordinary and at auction are a fraction of the price bought new in a quality jewellery store."
The full sale catalogue can be viewed online. Viewing will be open at the Bourne Auction Rooms on December 20 between 2-6pm and before the sale on December 21.