The Grantham saleroom of Golding Young & Mawer will play host to an outstanding collection of football books, ephemera and autographs on October 1st, 2014. The single-owner collection, which relates primarily to Manchester United, is of exceptional quality and will attract bidders from across the globe.
Manchester United's Old Trafford has seen a wealth of talent grace the hallowed turf. From a chap called Beckham to footballing greats such as Johnny Giles, George Best, Pat Crerand and Bobby Charlton. The collection features these and other Manchester United players of any merit between 1968 and 2005.
The vendor has been a life-long supporter of Manchester United since the age of 13. He has been attending the games for over 40 years and during that time has amassed this truly unique collection.
"I started to take the a couple of books to every game I went to, so I could get past and present Manchester United football players to sign them. If I saw anyone of interest, such as Sir Tom Finney or Kevin Keegan, I would get them to sign the books also." Stated the vendor, who wishes to remain anonymous. "I was fortunate to attend a tribute dinner dance for Nobby Stiles. Also attending were the Manchester United European Cup winning side from 1968 and the 1966 England World Cup team. Many of the autographs on the menus and books are from these footballing greats.
Saleroom manager Andrew Doubleday said: "The beauty of this collection is its thoroughness. Thumbing through the various dinner menus, books and records - all comprehensively signed - one can see there is something for all fans of all eras of the great game; from the general football fan, the diehard United supporter or those who claim Best was BEST."
The dinner menu is in A1 condition and features autographs from some of the big names of sport history; Crerand, Banks, Cohen, Hunt, Hurst and Kidd, Norman Whiteside, Alex Ferguson, Shay Brennan, Kevin Moran as well as a host of others. The menu comes with 4 plain menus and two tickets, rare in itself, but unique with these signatures. Also included are single books which appear with over 170 autographs on them, programmes too numerous to mention, books and guides.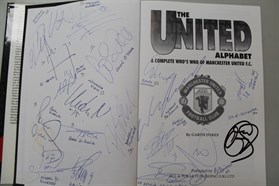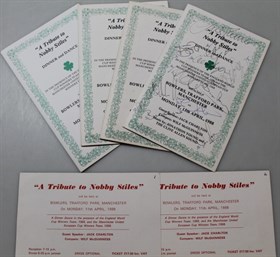 Grantham resident valuer Craig Bewick said: "It is just what people want; a complete and thorough who's who of Manchester United, plentiful and in excellent condition. This collection really is in a Champions League all by itself."
Elsewhere in the sale is an impressive WW1 medal group which includes a Distinguished Conduct Medal. The medals were awarded to Colour Sergeant G. Brown of the Norfolk Regiment. Alongside the DCM are offered a 1914-15 Star, a British War Medal, a Victory Medal and a Belgium Croix de Guerre. The medals are estimated at £1,000-£1,500 and are being offered on behalf of the Samaritans charity following a generous donation to the Leicester Branch.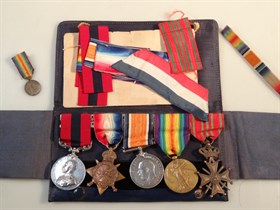 The public will be able to view the football collection between 10am and 4pm on 30th September. The sale starts at The Grantham Auction Rooms on 1st October. The sale catalogue will be online at www.goldingyoung.com.
Golding Young strongly advise the public to view the online catalogue to check the items they wish to view before travelling, or call the team who will be happy to answer any questions on 01476 565118.