The 6th May Collective Sale at The Grantham Auction Rooms should also be known as the 'Buy With Confidence Sale'; there are over 750 lots of fresh to the market items which will be of interest to private buyers and antiques dealers alike.
We have exhibition quality furniture, a strong painting section headed by Victorian heavyweights such as Alfred De Breanski, a large gold, silver and plate section and other strengths in die-cast toys, stamps, postcards and medals that will ensure an exceptionally high quality and varied affair.
If one piece should sum up what is on offer it must surely be Lot 157. A dome topped silver casket may seem an odd, ten a penny item at first glance – but this is no ordinary item.
The name Helena M Ibbotson deserves to have a higher standing that it does; this is the artist responsible for this enamel, silver gilt and silver masterpiece dating from 1925. This is first rate quality from a maker at the top of their game and whose work rarely comes on to the market.
The enamelling itself is exceptional, decorated with a lady, a child and a peacock in a garden setting. The box itself has been cast by Ibbotson and even without the decoration it is a stylish fresh piece that would sit nicely on any sideboard.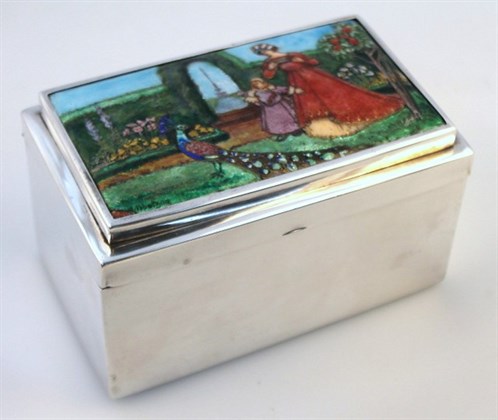 Ibbotson was a leading figure in Sheffield. She exhibited once in Birmingham in the 1930's and became head of the Sheffield Silver Guild. Other than that, little is known and if anyone can tell us more we would be delighted to hear from you. One of Ibbotson's pieces sold at auction for in excess of £1,000 and several pieces can be found in the Sheffield Museum; the modest estimate of £300-£500 on this lot must be very tempting!
The sale will be held at The Grantham Auction Rooms on Wednesday 6th May at 10am. Viewing is on Tuesday 5th May from 10am until 4pm and from 8.30am on saleday.