A small watercolour painting fetched more than three times its estimate at the specialist fine art sale at the Lincoln auction rooms.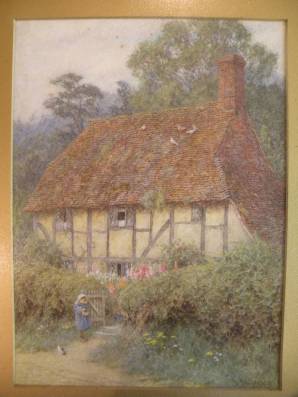 The painting, by the artist Helen Allingham R.W.S. (1848-1926), depicted a child in a blue dress with cats before a timber framed cottage and was expected to fetch between £1,500 and £2,000 in the sale held yesterday (Tuesday, April 27) at Thomas Mawer and Son of Portland Street.
But a commission bid left on the books opened bidding at £7,200 and then one of four telephone bidders pushed the price up to £7,600. The painting finally went to a telephone bidder from the south of England.
Auctioneer John Leatt said: "Helen Allingham is a popular watercolour artist and there was a lot of interest in this lot before the sale.
"When bidding began, two bids had been left on the books and four bidders were waiting on telephones. The opening bid exceeded many of their expectations as it was very high at over £7,000.
"The final price of £7,600 was very good for such a small painting, but there was high demand because of the quality of the piece and because it came from a good private source."
The painting was the highlight of a sale which attracted hundreds of bidders who either attended the sale in person, left commission bids on the book before the sale, bid over the telephone or on the Internet through a live bidding system. A record 160 buyers from as far as Asia and America watched the sale on the Internet and bid online.
Another high price was also achieved for an oil on canvas by John Scott (1802-1885) which depicted the ship 'The Tiviot' off Liverpool with other sailing and steam ships in the foreground. Signed and dated 1849, it had come from a deceased estate in Nottinghamshire and was estimated to fetch between £1,200 and £1,800. Bidding opened at £1,450 and then two telephone bidders, an Internet bidder and another in the room pushed the price up to £2,500. It finally went to a bidder on the telephone.
Another oil on canvas, signed and dated by Ralph Hedley (1851-1913) titled 'The Wishing Well', Mount Grace Priory, fetched £1,900, well over its £800 to £1,200 estimate. It sold to an Internet buyer.
Meanwhile, a collection of 25 samplers, formed by a local lady who was a member of the Embroiderers Guild, fetched £2,865 in the sale.
Among the collection, a 19th century sampler of Lincoln Cathedral surrounded by bouquets of flowers, birds and figures which read 'A representation of Lincoln Cathedral, Rebecca Unsworth work 1845', fetched £260, whilst a rare and interesting sampler, completed by Frances Wood aged 12 on December 10, 1760 at a school in Alford, Lincolnshire, fetched £280.
Another county sampler which featured numbers, letters and a poem titled 'Friendship by Ann Maddison, High Toynton (Lincolnshire) March 8th 1811', fetched £270, whilst an alphabetical and pictorial sampler worked with a prayer by Sophia Dowse, which read 'her work in the 10th year of her age 1813', fetched £320.
A private collection of 26 Wedgwood models by sculptor John Skeaping fetched a total of £3,525. The highest price paid was for a blue and brown figure of a deer, glazed by Norman Wilson, and exhibited at the Wedgwood Exhibition of 1982, which made £550.
Also in the ceramics section, two Royal Worcester vases by the artist Charles Baldwin made high prices after being placed in the sale by a vendor from Majorca. The first, a two handled baluster shaped vase and cover, painted with four fantail doves was expected to fetch between £1,000 and £1,500 and made a hammer price of £1,800; the second, a two handled vase painted with swans and a swallow to the reverse, made its top estimate of £3,000.
Among the bronze sculptures, a well cast Japanese bronze model of a cockerel standing on a rustic wood base from the Meiji era fetched £7,200. Another bronze sculpture of two horses taking a hurdle with a foundry mark for Susse Frere of Paris fetched £2,400 and went to a buyer from Paris who had left a commission bid on the book.
In the furniture section, a George III mahogany architects table by Gillows of Lancaster fetched £2,800, well over its £1,500 to £2,000 estimate and a William IV simulated rosewood sofa fetched more than six times its estimate of £200 to £300, to make a hammer price of £1,900.
An early 18th century large oval oak gate leg table fetched £4,800, just over its estimate of £3,500 to £4,500, due to its exceptional size and original condition.
The next sale will be held on Saturday, May 8. A full catalogue will be available online a week before the sale at www.thosmawer.com For more information phone (01522) 524984.