In the 19th century walking sticks were seen as status symbols and any well to-do gentleman, wouldn't have been seen without one.
The walking stick or 'cane' as they are sometimes called were a way of judging how much money a person had at this time. The detail, jewels and precious metals all would have given an indication.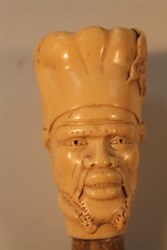 Ivory was often use by walking stick makers, who were produced animals, flowers, mythical beasts, faces and human forms. With the rarity of Ivory, only the wealthiest were able to afford a carved ivory walking stick.
Lot 2 is a decorative ivory walking stick head, carved in the shape of an African Chief. Ivory remains popular with collectors seeking good quality pieces made pre-1946.
The carved ivory chief's head will be offered for sale at the Grantham Auction Rooms on 9th October 2013. Viewing is open on the 8th October and on the morning of the sale.