Over the last two decades vintage football programmes have become increasingly desirable. Pre 1960s examples can generate vast amounts of money. The collection sold at The Lincoln Auction Rooms on the 25th of June was not only early, but had the added obvious attraction of being Lincoln City related and fresh to the market.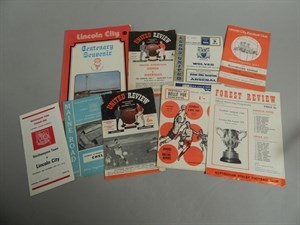 The eventual buyer of the largest lot, a local collector, fended off challenges from the Internet, commission bids and other buyers in the room. The hammer finally fell at £500, with other lots from the collection adding a further £130 to a very happy vendor's total.
Other notable prices were £1600 for a late 19th century British Army helmet for the North Staffordshire Regiment Volunteer Battalion - watch our blog video - brought in during one of the free Friday valuation mornings.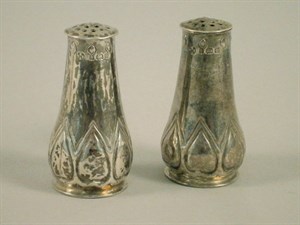 Lot 31, a continental cold painted figure of a seated pierrot sold for £800 and an unusual pair of art nouveau style silver pepper pots also made £260.