Dedicated followers of fashion of yesteryear will be flocking to the Lincoln auction rooms for a sale of vintage clothing, textiles and accessories.
From pretty 1950s day dresses to Victorian mourning costume, 1930s bathing suits to '70s platform shoes, there will be something for every budding fashionista at the sale at auctioneers Thomas Mawer and Son of Portland Street, Lincoln on Saturday, July 3.
Auctioneer John Leatt said: "Back in March this year we asked people to search their wardrobes and attics for quality items which depict an era and we were overwhelmed by the response.
"The main auction room is now brimming with vintage items, from vintage wedding dresses, wartime and military clothing and even 1970s kipper ties and platform heels. The sale promises to be an interesting and highly fashionable event!"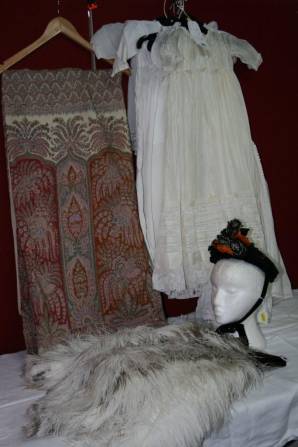 Over 260 lots of women's, men's and children's clothing and costume from the Victorian era through to the 1980s will be included in the sale with prices to suit every pocket from £10 to several hundreds.
Of the designer items, a mid-1960s Mary Quant handbag in navy and white PVC with a bangle attached by a chain, named inside and with a spotted interior is estimated to fetch between £80 to £120. It is being sold with an illustrated magazine titled 'Collecting the '60s' which mentions the handbag.
There is also a 1980s Vivien Westwood jacket in grey with green collar, cuffs and pockets in a size 12 featuring the designers trademark Red Orb button which is expected to fetch between £80 and £100, and a Karl Lagerfeld labelled jacket in soft sage with a red potato print-style design which is expected to make between £40 and £60.
A vintage soft quilted coat by designer 'Emmannuelle Khanh - Paris' with an elephant and tree print, daisy design buttons and dog eared collar is expected to attract a lot of attention and is estimated at between £80 to £100.
There are several stunning vintage evening gowns in the sale including a 1980s dress in yellow taffeta decorated with black flock petals with a black velvet bodice and full skirt with net underskirt and satin lining, which is expected to make between £60 and £80. A 1980s Frank Usher pleated and strapless cocktail dress in green with gold Lurex finish is sure to appeal to disco divas!
Dresses from the highly sought-after 1950s designer Horrockses are expected to be hotly contested, including an unusually long evening dress with boned bodice in cream and printed with large yellow chrysanthemums which is expected to make between £60 and £80 and a pretty summer dress decorated with pink roses with cap sleeves and a full skirt which is expected to make between £40 and £60.
Elsewhere in the sale, there are Victorian mourning dresses and paisley shawls, numerous day dresses from the 1940s, '50s and '60s, children's 1940s outfits, wartime and military clothing, fur coats and capes, wedding dresses from the 1930s to '80s and even fancy dress outfits.
Accessories include handbags and clutches, shoes, costume jewellery, top hats and bowlers, gloves, stockings and underwear, silk shawls and sunglasses.
There are also various eras of beachwear including a 1940s bathing costume with a sand background decorated with seashells and tiny fishes, a 1960s swimming hat in green with white daisies and a 1940s sunhat with matching bag which was made in Chicago.
Among the textiles are a number of patchwork quilts, brightly printed dress and curtain fabrics, tablecloths, doilies, linens and tea towels. Among the ephemera are Honey and Vogue magazines, prints showing fashion in the 1800s, sewing patterns, wartime packaging for face creams, powders and lipsticks, and advertising.
Mr Leatt added: "Vintage fashion has never had a bigger following. Whether it's fashionistas following the celebrity trend for vintage, re-enactors recreating a particular period or collectors keen to find a sought-after piece, the demand has never been greater.
"This sale will tap in to that demand - indulging the passion of fashion followers, whilst at the same time allowing owners to cash in items which may have wallowed in their wardrobe for many years."
Elsewhere in the sale, a rare German 'Kathe Kruise' maternity doll, made entirely from cloth with a moulded muslin head, hand painted face and jointed at the shoulders, hips and knees is expected to fetch between £1,000 and £2,000. Made between 1910 and 1929, the doll was used to mimic the size and weight of a baby.
There is also a ceramic sculpture of Noel Coward by the artist Geoffrey Davien which is expected to fetch between £50 and £100. Davien's 'sculptoons' were depictions of leading figures of the 1950s and '60, such as Harold Wilson, Harold McMillan and George Bernard Shaw. The National Portrait Gallery holds 14 of his works.
A late 19th century French spelter figure of a female nymph seated on a half moon surrounded by poppies on a later ebonised stand is expected to fetch between £300 and £500.
Among the painting and prints in the sale, a charming picture of a terrier titled 'Dandy', monogrammed 'H.C' and dated 1867 is expected to have wide appeal, and a contemporary version of the famous Jolly Fisherman poster by John Hassall, which was probably used for smaller display boards, is expected to fetch between £80 and £100.
A full catalogue is now available on-line at www.thosmawer.com . For more information phone Thomas Mawer and Son on (01522) 524984.