Ladies dressed head to toe in 1950s outfits mingled with other buyers at the vintage fashion sale at the Lincoln auction rooms.
The event, which was hailed a 'huge success' by auctioneers, saw buyers in the saleroom compete with others on-line for the pick of 260 lots of vintage clothing, textiles and accessories from the Victorian era through to the 1980s at Thomas Mawer and Son of Portland Street on Saturday (July 3).
Auctioneer John Leatt said: "The vintage fashion sale was a huge success with a high percentage of lots sold and good prices paid for the most popular items.
"Several ladies arrived dressed in 1940s and '50s clothing and this added to the atmosphere in the room. We received a lot of positive feedback and are now planning another sale of vintage fashion towards the end of the year to cater for demand."
The star lot in the sale was a fabulous gentleman's wool coat with a full fur lining and collar which fetched £310, more than twice its highest estimate.
Of the designer items in the sale, a 1980s Vivien Westwood jacket in grey with green collar, cuffs and pockets featuring the designers trademark Red Orb button fetched £80, a Karl Lagerfeld labelled jacket in soft sage with a red potato print-style design made £42 and a vintage soft quilted coat by 'Emmannuelle Khanh - Paris' with an elephant and tree print, daisy design buttons and dog eared collar made £80.
Among the vintage evening gowns, a 1980s Frank Usher pleated and strapless cocktail dress in green with gold Lurex finish made £50.
Several dresses from the highly sought-after 1950s designer Horrockses were up for grabs. Among them, an unusually long evening dress with boned bodice in cream fabric with large yellow chrysanthemums made £70 and a pretty summer dress decorated with pink roses with cap sleeves and a full skirt fetched £60.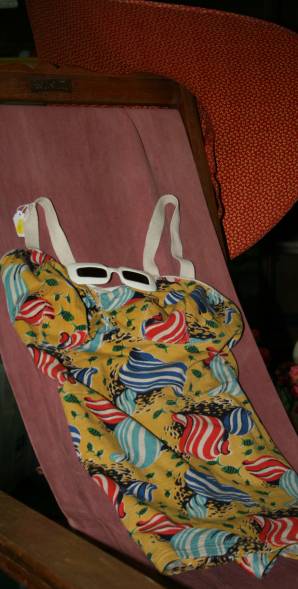 One lot of beachwear, including a 1940s bathing costume with a sand background decorated with seashells and tiny fishes, a 1960s swimming hat in green with white daisies and a 1940s sunhat with matching bag made in Chicago, fetched £110.
Meanwhile, a selection of vintage garments including bloomers, petticoats, blouses and a pair of gaiters, far outstripped its estimate of £20 to £40 to make a hammer price of £180, and a vintage cream silk embroidered shawl with flower detail made £120, far over its £60 to £80 estimate.
A collection of vintage 1940s and '50s handbags expected to make between £40 and £60 fetched £110, whilst a selection of children's shoes from the same period made £100.
One lot of ladies hats, including some felt, made £220, a gentleman's top hat with its leather hat box made £150 and a Victorian wool shawl made £100.
A number of items of outerwear, including a vintage usher's uniform, a lady's striped blazer, long velvet cape and another cape with a lime green lining, and a gentleman's triple blazer, tailcoat and frock coat, estimated at between £20 and £40 made a hammer price of £200.
Elsewhere in the sale, a rare German 'Kathe Kruise' maternity doll, made entirely from cloth with a moulded muslin head, hand painted face and jointed at the shoulders, hips and knees fetched £1,050 Made between 1910 and 1929, the doll was used to mimic the size and weight of a baby. Another lot containing various composition dolls including a Kathe Kruise doll fetched £600.
A late 19th century French spelter figure of a female nymph seated on a half moon surrounded by poppies on a later ebonised stand fetched £300, a charming picture of a terrier titled 'Dandy', monogrammed 'H.C' and dated 1867 made £340 and a violin stamped 'Breton' in a case with two bows fetched £500.
A collection of gold coins from a Lincolnshire vendor made a total of £2,502, with one lot containing a quantity of Charles II, Queen Ann, Queen Mary and other coins fetching £1,550.
Meanwhile, a charming letter from Queen Victoria's favourite grandson to his aunt asking her to send his love to his Grandmamma and other correspondence from the Royal household to swimming teacher Mrs Godley fetched £160. The letters had been passed down through Mrs Godley's family, who now live near Lincoln.
Among the furniture in the sale, a 19th century mahogany bookcase with four glazed doors on a plinth base fetched £700.
The next sale will be held on Saturday, August 7. A full catalogue will be available on-line a week before the sale at www.thosmawer.com . For more information phone Thomas Mawer and Son on (01522) 524984.