Freezing temperatures, snow and ice failed to stop bidders heading to the vintage fashion sale at the Lincoln auction rooms at the weekend.
The event, which featured 250 lots of vintage clothing, textiles and accessories, was hailed a 'huge success' by auctioneers at Golding Young & Thos. Mawer who saw a packed saleroom on Saturday (December 5) despite the terrible weather.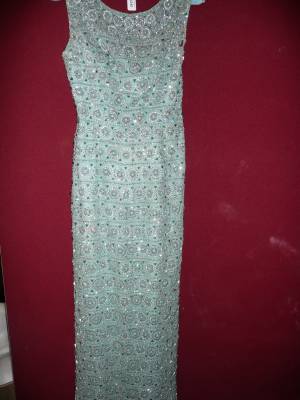 Auctioneer John Leatt said: "My experience in over 20 years in the business is that bad weather auctions are often very well attended. People think there will be fewer bidders at the auction so make an extra effort to beat the weather. This proved to be the case on Saturday with a very full room and car park, as well as an increased amount of live bidding on the Internet.
"The vintage fashion sale was especially busy with collectors and re-enactors travelling from as far as London and Manchester to find a key piece. Fashions from the 1940s and '50s were very keenly contested with some exceptional prices seen for coats and dresses from that era."
He added: "We are now planning our next vintage fashion sale for the Spring and are hoping people will search their attics and wardrobes for interesting and quality items which depict an era."
Retired Spilsby shoe shop owner Dawn O'Connor brought 16 vintage dresses from the 1960 and '70s to be featured in the sale. She had worn one outfit, a navy blue and white striped dress and matching bolero jacket, at her 21st birthday party held at Toynton Village Hall in 1966.
The dress, and 15 others which were sold as one lot, fetched £55 in the sale. Mrs O'Connor said: "The auctioneer told me the dresses would fetch between £40 and £60 so they got the price spot on. I'm happy because no matter what they made I just like to think that somebody else will enjoy them."
The star lot of the sale, a 1950s turquoise evening gown by couturier to the Royal family Norman Hartnell, fetched £360, well over its £200 to £300 estimate. The gown was totally encrusted with turquoise and silver sequins, crystals and pearls with a boned bodice.
Hartnell opened a salon at Bruton Street, London and his early clients included Noel Coward, Barbara Cartland, Marlene Dietrich and Vivienne Leigh. In 1935 he received his first Royal commission to create the wedding dress for the marriage of the Duke of Gloucester and Lady Alice Montague Dougal Scott and her bridesmaids Princess Elizabeth and Margaret. His most famous commission was to design the Coronation dress for Queen Elizabeth II.
Harrods of London cocktail gown in champagne with
a heavily encrusted bodice fetched £130, whilst a designer evening gown by 'Christian Dior Boutique' in champagne, heavily decorated with pearl and teardrop style beading, made £240.
A 1950s 'Pierre Balmain, Paris' gown in salmon pink with green chiffon overlay, encrusted on the neckline, cuffs and hemline with sequins and bugle beading and crystals in pinks and greens, sold for £220.
Two ladies coats from the 1940s to '50s with pocket and cuff features and decorative buttons were estimated to fetch between £40 to £60 and made a hammer price of £190, whilst two wartime winter coats with large collars realised £160.
A cream full length mink coat with matching belt was hotly contested by several bidders in the room, outstripping its estimate of £80 to £100 to fetch a hammer price of £260.
Two lots of Victorian and Edwardian costume fetched good prices in the sale. The first lot, which included silk and satin dresses and bodices with bead and lace decoration, sold for £260; the second lot, which featured black beaded and sequined boned jackets and skirts, a red silk day dress, green velvet cape and hooped skirt, fetched £280.
A 1960s 'Bellstaff' motor cycle jacket with attached fur collar, full lining and three zipped pockets made £95, whilst a Canadian vintage airforce jacket from 431 Squadron realised £65.
In the general sale, the most unusual item, a carved walking stick made from the tusk of a Narwhal (a type of whale with a sword-like spiral tusk) with a tooth handle, made six times its highest estimate. The stick was expected to fetch between £100 and £200 but fierce bidding in the room pushed the hammer price up to £1,200. It was bought by the specialist London trade.
Meanwhile, several 1960s Lincolnshire Echo photos of The Beatles, The Shadows, Cliff Richards and other pop stars visiting the city, as well as pictures of Lincoln, fetched £70, just over their £30 to £50 estimate. The ephemera was discovered in an attic in the city.
A pair of Victorian hand cuffs and shackles, which were found in a house clearance in Woodhall Spa and were estimated to fetch between £25 and £35, also made £70.
In a strong section of silver, jewellery and objects of virtue, two 'Must de Cartier' carriage clocks sold for £200.
A Rally 12 horse power ride-on mower fetched £240.
The next sale will be held on Wednesday, January 19, 2011, and sales thereafter will take place on the third Wednesday of every month at Lincoln and the first Wednesday of every month at Grantham.