Lincolnshire born artist Vincent Haddelsey (1934-2010) developed a life-long love of horses at a very young age and became well known for his paintings of equestrian scenes.
From quintessentially English showjumping to the clamour of the Mexican rodeo. He travelled the world extensively studying and capturing the equine essence on canvas.
He was entirely self-taught which comes across in a style that is almost naïve in nature.
In honour of his work the Sam Scorer Gallery on Drury Lane, Lincoln are hosting a 'Retrospective' exhibition.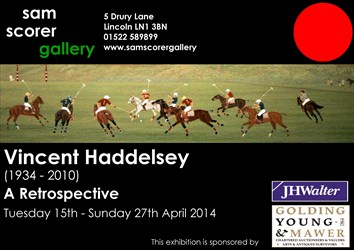 "This is a rare chance to view the work of this fascinating artist" said gallery manager, Mollie Wallhead.
Click on the download button - top right of this page - to read the exhibition brochure and find out more about Vincent's life and work.
The exhibition opens on Tuesday 15 April and runs until Sunday 27 April.