Lalique is highly desirable, and the artist has become synonymous with exquisite artistry in glass. From perfume bottles and vases to jewellery and glass art, his work flows with understated elegance and art deco influences.
Lot 1 at the Lincoln Auction Rooms on March 26 was a Lalique Oleron opalescent glass vase, decorated with swimming fish. Our principal auctioneer and valuer Colin Young estimated the mid-hundreds for this beautiful piece. So how did it do in the auction room on sale day? Let's take a look.
Perhaps a surprise on the day was an 18th Century cast iron padlock and key. Here's Colin demonstrating how you can unlock the potential of such a piece when it comes to auction.
So how did it do on sale day? Take a peak and see how bidding can escalate when two buyers really want the same item.
Elsewhere in the auction, John Leatt, Lincoln Saleroom Manager said his favourite piece of the day was Lot 691, an unusual 19th century carved pen knife.
"I found the penknife at the bottom of a box amongst some general brass and copper. It was a really interesting item which had come over from local charity Kids Strut." explains Lincoln saleroom manager, John Leatt. "The item was bought by a specialist from the Midlands for £320 against some very strong local interest. We are delighted the knife made so much money for such a worthy charity,"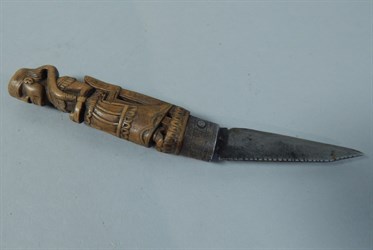 The saleroom is now accepting consignments for the April Collective sale which will take place on April 23. Interested parties can visit the Lincoln Auction Rooms between 9am-1pm and 2pm-5pm or call the saleroom on 01522 524984."