One of the highlights of the Lincoln Collective Sale on 18th February is Lot 8, a wonderful Edwardian desk.
Colin Young takes a look at this in a bit more detail, as it's one of those wonderful things that is just absolutely of the period and of the quality.
"Kidney shaped is one of those shapes that just takes away from that rectangular fairly common design and so it is always going to be more desireable." says Colin.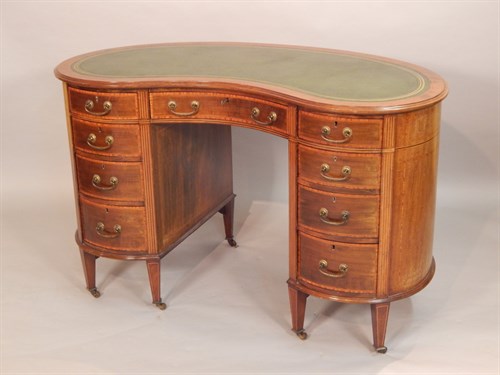 "The top has got this lovely gilted and tooled leather inlay to it. We've got stringing in there of ebony and boxwood and also wonderful thumbnail moulding.
The actual desk itself has got a concave drawer to the centre here and as you can see in the video, the crossbanding on the mahogany is in satinwood and again some wonderful boxwood stringing."
Watch our video to find out what else Colin has to say.