Watch Saleroom manager, Alastair McPhie-Meiklejon, preview automobilia relating to the BRM F1 racing team, which goes under the hammer during the 150th Anniversary sale at The Bourne Auction Rooms on Tuesday 2nd September.
Lots include a 1963 Race Diary including Grands Prix owned by ERA/BRM F1 racing team boss Raymond Mays, Grand Prix posters and goggles as worn by Ken Richardson, Chief Mechanic and Test Driver for Raymond Mays during their most revolutionary period.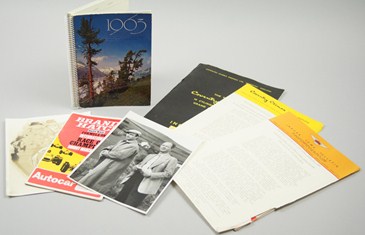 The public will be able to view the items in the 150th Anniversary sale between 10am and 4pm on 30th August to 1st September. The sale starts at The Bourne Auction Rooms on 2nd September, moves to Grantham on 3rd September and ends at Lincoln on 4th September. The sale catalogue is now online at www.goldingyoung.com
Golding Young strongly advise the public to view the online catalogue to check the location of items they wish to view before travelling, or call the team at any of their salerooms who will be happy to answer any questions on: Bourne 01778 422686, Grantham 01476 565118, Lincoln 01522 524984.