Watch Saleroom manager, John Leatt, preview a lovely example of Clarice Cliff porcelain which goes under the hammer during the 150th Anniversary sale at The Lincoln Auction Rooms on Thursday 4th September.
Lot 3096 is a Newport Pottery Clarice Cliff Bizarre Latona Viking long boat, externally painted in red and black against an ivory ground, raised on slab supports, black printed marks. It is in fabulous condition and is expected to make £600-£800 in the sale room.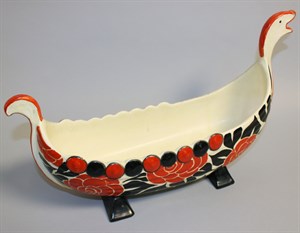 John Leatt said: "We have such an ecletic mix of antiques and paintings, there really is something for everyone at the Lincoln part of the 150th Anniversary sale."
The public will be able to view the items in the 150th Anniversary sale between 10am and 4pm on 30th August to 1st September. The sale starts at The Bourne Auction Rooms on 2nd September, moves to Grantham on 3rd September and ends at Lincoln on 4th September. The sale catalogue is now online at www.goldingyoung.com
Golding Young strongly advise the public to view the online catalogue to check the location of items they wish to view before travelling, or call the team at any of their salerooms who will be happy to answer any questions on: Bourne 01778 422686, Grantham 01476 565118, Lincoln 01522 524984.