A stunning Victorian cabinet filled with exotic birds and insects made nearly three times its estimate in the June sale at the Lincoln auction rooms.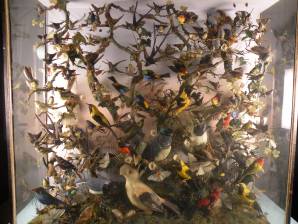 The display of taxidermy, which contained over 50 mainly hummingbirds mounted on the branches of a small tree, was expected to fetch between £300 and £500 at the sale at auctioneers Thomas Mawer and Son of Portland Street, Lincoln on Saturday (June 5).
But after a particularly fierce bidding war, it went to a determined collector from the North East for a hammer price of £1,300. The collector had spotted the cabinet on the Internet and travelled to the auction rooms to bid in person on sale day.
Auctioneer John Leatt said: "Single birds do appear on quite a regular basis, but it was very unusual to have so many related birds together in the same case and in such wonderful condition.
"The display has come from a Lincolnshire vendor and we are delighted with the price achieved."
In the bygones section, the late 19th and early 20th century hand written diaries of a farmer from Gringley-on-the-Hill, between Gainsborough and Bawtry, fetched £500. The diaries detailed working life on the farm and were sold with a hand written Victorian recipe book, books of poems, watercolours and sketches and cuttings of samplers.
Among a collection of ocean liner memorabilia featured in the sale, a number of advertising posters made good prices with a Cunard advertising poster titled 'Europe to America, the largest liners in the World' depicting the Queen Mary entering New York and the Queen Elizabeth leaving Southampton docks fetching £240.
Another advertising post after Frank Wooton titled 'Isle of Man' and showing ships in a harbour, published by British Railways (London Midland Region), made £210, whilst a watercolour showing the M.V. Rangitane picking up pilots off the Isle of Man, signed by the artist Stanley Pellett fetched £160.
The most controversial item in the sale was a
large wall hanging of a Third Reich emblem, possibly used during rallies, which fetched £180.
In the furniture section, an ebonised grand piano by C. Bechstein made £2,200, more than double its top estimate and a very good example of a 30-hour longcase clock by Hallifax of Doncaster made £700.
The paintings and pictures section of the sale includes 30 samplers, dating from the 18th and 19th century, submitted following on from the success of the samplers featured in the April specialist fine art sale. Among the collection, an early 19th century alphabetical and numerical sampler by Eliza Evans, dated 1831, fetched £450, and another 19th century, well coloured sampler by Naomi Parkins, dated June 1846, and worked with a house, animals, figures, butterflies and flowers in a maple frame made £360, well over its £100 to £200 estimate.
In the same section, an 18th century silk picture of a seated angel playing a harp with rabbits, lions, cheetah and a bird amidst trees made £650, well over its £100 to £200 estimate.
Elsewhere, an extensive collection of stamps made £430 and another collection made in excess of £500, a series of Diecast lorries including Corgi's 'Hauliers of Renown' and 'Truckfest' made £540 and a 19th century brass Gimbel compass by Horne Thornwaite and Wood of Newgate Street, London fetched £400.
The next sale will be held on Saturday, July 3. A full catalogue will be available on-line a week before the sale. For more information phone Thomas Mawer and Son on (01522) 524984 or visit www.thosmawer.com.