A Victorian sampler destined for the tip after being found in an attic looks set to make a tidy sum for its owner.
Gareth Bailey (37) was clearing the loft of his new house in Bracebridge Heath, Lincoln when he found the sampler and put it out ready to take to the tip. Thankfully his mother-in-law spotted it and suggested it might be worth something.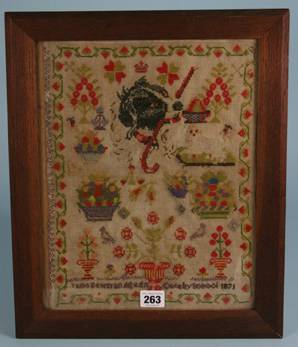 The framed sampler, which was made in 1871 by an 11-year-old pupil at Coleby School, will now be featured in the December sale at Thomas Mawer and Son of Portland Street on Saturday (December 5).
Auctioneer John Leatt said: "This sampler has a good local connection having been made by a child at nearby Coleby School. It is in very good condition for its age and has obviously been kept out of the sunlight because the colours are still nice and bright.
"It will certainly attract a lot of interest because it features an amusing dog with a walking stick in its mouth rather than the usual alphabet and numbers. We estimate it will make between £75 and £150 on sale day."
He added: "Although some of the stitching is unclear, we believe it was made by a Jane or Mary Bowman or Newman and we would be interested to hear from any local families who have any information about its origins."
Mr Bailey moved into the house in September with his wife Amelia (40) and their six-month-old daughter Tilly. He said: "When we bought the house lots of rubbish had been left in the garage, garden and loft. I cleared six tea chests, lots of rolls of carpets and beer bottles from the attic when I came across the sampler and thought it was rubbish too.
"I was taking it to the tip when my mother-in-law stopped me and said it might be worth something. I'm pleased I didn't throw it away now - it's a case of cash in the attic!"
Once the sampler has been sold, Mr Bailey intends to put the money towards further house renovations.
The term 'sampler' comes from the Latin word 'exemplum' meaning 'an example to be followed'. The first known dated English sampler was made by Jane Bostocke in 1598 to mark the birth of her daughter or niece Alice Lee. It is held in the sampler collection at the Victoria and Albert Museum.
The earliest samplers were sewn by women, rather than young girls, and were intended as examples of different designs and stitches. By the mid-18th century it became common for young girls to work samplers as part of their education of which needlework was an important factor. These samplers usually featured decorative boarders, alphabets, motifs such as animals, flowers and horses and some verses.
During Victorian times, samplers became more pictorial and decorative and were often hung on parlour walls.
Elsewhere in the sale, a Clarice Cliff 'Elegant' design flower basket painted in a Blue Chintz pattern is expected to fetch between £300 and £500 and Clarice Cliff tray painted in Green Chintz is estimated at £150 to £200.
The jewellery and silver section features an Asprey gold cigarette case which is expected to fetch between £800 and £1,200.
Among the furniture, an oak Wabash Improved Rival Filing Cabinet from a local private vendor and another three-sectional filing cabinet by 'The Globe Wernicke Co of Cincinnati, USA' are estimated to fetch between £200 and £400 each. A good sized late-Victorian walnut partner's desk is expected to make £400 to £600.
In the bygones section, an early 20th century German apricot coloured plush teddy bear in very good condition and unusual because of its colour is expected to make between £200 and £300. There is also an extensive collection of over 1000 Lincolnshire postcards.
A full catalogue will be available online a week before the sale. For more information log-on towww.thosmawer.com or phone (01522) 524984.