When Dawn O'Connor celebrated her 21st birthday in 1966, she bought a new outfit especially for the occasion.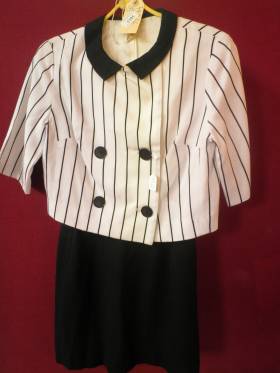 The navy blue and white striped dress with its little straps and matching bolero jacket was the height of fashion, emulating the style of fashion icon Jackie Kennedy. At her birthday party held at Toynton Village Hall, Mrs O'Connor cut the cake in front of her friends and family and danced the night away.
Now over 40 years later, the outfit and several other of Mrs O'Connor's dresses from the 1960s and '70s are being featured in the vintage fashion sale at Lincoln auctioneers Golding Young &Thos. Mawer on Saturday, December 4.
Auctioneer John Leatt said: "After the last vintage fashion sale in July, we appealed for people to raid their wardrobes and attics for quality items which depict an era and we were overwhelmed with the response.
"We now have over 250 lots of vintage clothing, textiles and accessories including glamorous designer evening gowns from the 1950s, Victorian mourning costumes, 1940s children's clothing, vintage wedding dresses and wartime and military outfits.
"The sale is attracting a lot of interest from re-enactors wanting recreate a particular period, collectors looking for sought-after pieces and fashionistas following the celebrity inspired trend for vintage clothing."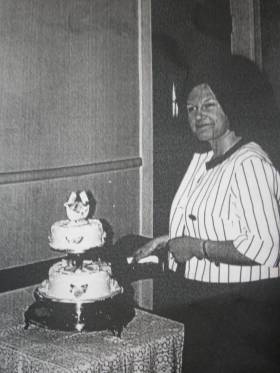 Mrs O'Connor, who owned O'Connor's Shoe Shop in Spilsby with her husband Michael until their retirement in 2007, said: "I bought my 21st birthday outfit from a boutique and it was the height of fashion, just like the straight dresses and little jackets Jackie Kennedy wore. All my friends and family came to the party. Mum made my cake, we did a buffet and had a juke box disco by Ron Diggins and his Digola. I remember taking the bolero off during the evening because I was so warm from all the dancing!
"I've kept these clothes in suitcases in the attic for over 40 years but now feel the time is right to let somebody else enjoy them. It's lovely to think that my party dresses will be worn again one day."
As well as her 21st birthday outfit, Mrs O'Connor is also selling a lace dress she wore to a friend's wedding in 1969 and a 1920s black lace dress that she bought from a jumble sale in East Keal when she was a child.
The star lot of the sale is a 1950s turquoise evening gown by couturier to the Royal family Norman Hartnell. The gown is totally encrusted with turquoise and silver sequins, crystals and pearls with a boned bodice and is expected to fetch between £200 and £300.
Hartnell opened a salon at Bruton Street, London and his early clients included Noel Coward, Barbara Cartland, Marlene Dietrich and Vivienne Leigh. In 1935 he received
his first Royal commission to create the wedding dress for the marriage of the Duke of Gloucester and Lady Alice Montague Dougal Scott and her bridesmaids Princess Elizabeth and Margaret. His most famous commission was to design the Coronation dress for Queen Elizabeth II.
There is also a 1950s John Cavanagh of London evening gown in a soft lime green with silver thread work and crystal design depicting butterflies and foliage which is estimated at £100 to £150. It is being sold with a black velvet evening jacket by the same designer.
A Harrods of London cocktail gown in champagne with a heavily encrusted bodice is expected to fetch between £100 and £200, whilst a designer evening gown by 'Christian Dior Boutique' in champagne, heavily decorated with pearl and teardrop style beading, is expected to fetch between £150 and £250.
A vintage Sarawak dress, which was featured in Vogue in 1975, is sure to get fashionistas flocking to the sale. The dress, which is a multi-patterned flowing wrap design, was created by sisters and Dutch designers Lily Henket and Terry Conemans in the 1970s and is expected to fetch between £80 and £100.
Among the other lots are 1970s maxi dresses, weddings dresses from various eras, fur and faux fur coats, capes and stoles, Victorian capes, night dresses, petticoats and bloomers, simple 1950s day dresses, elegant evening bags, hats from the '50 to the '70s, linen and doilies, perfume bottles and luggage.
The most unusual item in the general sale is a carved walking stick made from the tusk of a Narwhal (a type of whale with a sword-like spiral tusk) with a tooth handle. It is estimated to fetch between £100 and £200.
Old Lincolnshire Echo photos of The Beatles, The Shadows, Cliff Richards and other 1960s pop stars visiting the city, as well as pictures of Lincoln, are sure to catch the eye of collectors of ephemera. They were discovered in an attic in Lincoln and are expected to fetch between £30 and £50.
A Morton's Illustrated Guide through Lincoln, being sold with a sample book of greetings cards, is estimated to fetch between £20 and £30.
There are also some Victorian leg and wrist irons complete with key, ring and chain, which were found in a house clearance in Woodhall Spa and are estimated to fetch between £25 and £35, and over 30 lots of militaria in untouched condition which were removed from a barn in North Yorkshire.
In a strong section of silver, jewellery and objects of virtue, two 'Must de Cartier' carriage clocks, which retail for in excess of £1,000, are estimated to fetch between £200 and £300.
There is also a Bluthner, Leipzig, grand piano in a rosewood case which is estimated at £500 to £800 and a Rally 12 horse power ride-on mower estimated at £200 to £300.