At Golding Young & Mawer's December auction at The Bourne Auction Rooms there are a large number of interesting and eclectic lots to suit every taste and budget. With Christmas in mind it's a great time to come along and buy something which, nine times out of ten, genuinely cannot be found on the High Street.
Leading the sale is a very good collection of carpenter's tools including industrial saws, drills and sanders, but chiefly featuring a number of planes by Stanley, Record, Lie-Nielson (Lot 1) and other makers (Lot 2). Most appear to date from the middle of the 20th Century and include combination, smoothing, plough and rabbet examples, many of which are boxed with their associated cutters and other tools. Now is the time to clear the garage or shed, and treat yourself to a craftsman's tool which will enable you to complete those must do jobs around the house before the better weather calls your attention elsewhere.
Amongst the many lots of contemporary ceramics and glass are Moorcroft vases, Beswick (Lot 480) and Lladro figures, and Michael Harris glass, made in both Mdina and the Isle of Wight. A single owner collection underpins a lovely offering of 19th Century porcelain and pottery and features a superb Ridgways wine cooler (Lot 381), Chelsea red anchor and Nant-Garw plates, Chamberlains Worcester and other teapots, relief moulded and parian jugs.

Jewellery is well represented across the spectrum and includes Middle Eastern high grade gold jewellery of which three gem set 22ct gold bangles (Lot 368) and a delicate necklace set with diamonds, emeralds and other precious stones stand out. More conventional, but no less desirable jewellery includes gold neck chains, lockets, curb link bracelet and gem set rings. Particularly unusual is a WWI submariner's sweetheart brooch formed as a submarine in 9ct gold (Lot 272).
For those with less traditional tastes amongst the collector's items is a bright yellow cased PrinzSound stereo radio and 8-track tape module for that classic 1960's space modular look (Lot 259).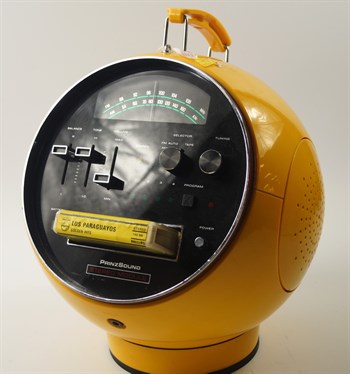 A decade earlier is represented by a Brexton picnic set - looking to warmer months ahead - its blue case containing Tudor ware 'Offbeat' pottery, thermos flasks, containers and cutlery. More serious collectors might wish to turn their attention to two chess sets. One is a turned wooden set in the so called St George pattern, carved in ebony and boxwood, whilst the other, attributed to the principal chess maker of the Regency period, John Calvert of 189 Fleet Street, London, is made of white and red stained ivory with fancy galleries to the kings and queens (Lot 312).

If it's time to give your home a winter makeover then there are plenty of antique and retro pieces of furniture and pictures on offer. Victorian brass and wooden framed beds, two baby grand pianos (Lot 514), refectory dining tables and chairs for accommodating the Christmas Day hordes, nearly new sofas and more traditional furniture compete for your attention, whilst the pictures include an oil painting attributed to Henry Alken, titled 'The Poacher' (Lot 591) and several engraved 18th Century and later maps of Lincolnshire.
With over twelve hundred lots this is a sale not to be missed and probably a lot more fun than the January sales.
The sale is at The Bourne Auction Rooms on Wednesday 14th December from 10am. Viewing is on Tuesday 13th December form 10am until 4pm, and from 8.30am on saleday.