The Lincoln Art Sale to be held on Wednesday 31st August at 6pm and consists of 340 lots. In order to display all of the pictures, viewing is to be held at both the Lincoln Galleries at Thomas Mawer House in North Hykeham and Dunston House in Portland Street, Lincoln.
The first 100 lots are to be viewed at Thomas Mawer House in North Hykeham, and it is from this Gallery that the evening auction will take place. The first lot is a portrait of the artist Frederick William Elwell, painted by his then to be wife Mary Dawson Holmes. The picture dated 1913 shows the artist working at his easel.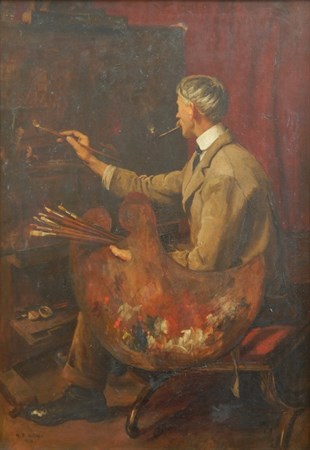 The auction continues with a good selection of 18th and 19th Century paintings with portraits and scenic views, including a pair of oils of masted and steam ships by William Anslow Thornley.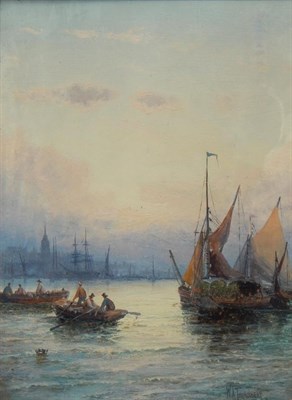 The remaining pictures are hung for viewing at Dunston House and will then be displayed on a video screen for the auction. Lincoln artists feature strongly in this sale, including pictures by William Logsdail, William Bartol Thomas and Peter Brannan. There are also three oil paintings by Vincent Haddelsey and the remaining contents of his studio, which consists of a large selection of his artist signed prints. Vincent Haddelsey was born in Grimsby in 1934 although there is always confusion as to the year, following the artist's decision in the 1970's to tell his publishers to print 1929 – rumour has it that he felt the extra five years would add to his artistic authority. The artist died in Paris in 2010. An exhibition of his paintings and prints was held at The Sam Scorer Gallery Lincoln in 2014.
The Lincoln Fine Art Sale will be held on Wednesday 31st August at 6pm. Viewing is on Friday 26th August 2pm to 6pm, Tuesday 30th August from 10am to 4pm and saleday from 2pm, at both Thos Mawer House and Dunston House.