The T E Keen collection of art, paintings, furniture, collectables and restoration materials on 2nd March at The Grantham Auction Rooms has proven to be one of the most fabulous collections seen in these rooms in terms of variety, size and quality.
Obviously it would be impossible to wax lyrical about everything – there is a definite mixture of items in good order and things which will appeal to those wanting to restore. Therefore it is wise to pinpoint three items to gauge the type and quality of items being offered.
A traditional antique and two pieces of 'boring' brown furniture may not set many hearts a-fluttering on paper – but not many wars were won on paper though!
The first item is as traditional as it gets; an oil of an early 19thC large champion cow – possibly a Hereford – stood in a field. One can only guess at the artist, but it is a subject which continues to appeal at auction. It is a painting reminiscent of a dozen similar oils sold in London five years ago to the National Trust at an average of £6,000 each. The difference here is that this cow cannot be traced back to any herd, whereas those could. The estimate price at around £800-1200 represents excellent value for such a quirky, decorative and appealing item.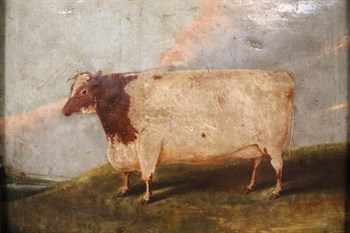 The Bullocks mentioned in this blog's title are not cattle at all – in fact, the only similarity between fat cattle and our next two items is that they all stand on four legs. The Bullock in question is George Bullock (1777-1818) the great Liverpudlian furniture maker, whose name is associated with more Georgian furniture than any other.
The first item is a table with marble top. It is beautifully simple at the same time as being intricate; each leg carved with a deep reeding that upon closer inspection highlights the skill of the craftsman, who if not Bullock was someone equally as good. The piece sings with Regency quality; it takes up very little room, is useful, in good order and fits perfectly into the modern home, whether blending with dark colours or juxtaposing the light. It isn't marked – few Bullock pieces are – but the deep carving and simplistic but highly skilled lines tick the Bullock boxes.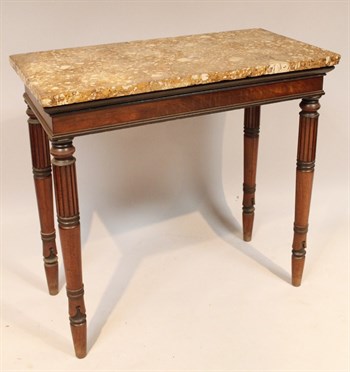 The second item is a cheval mirror. Again it is of similar period, perhaps a shade later, but nevertheless within that great era of fine furniture production; the reeded sides, metal work base and shaped glass ooze class. The lines are fine, the quality high and as with the table a more useful piece would be difficult to find.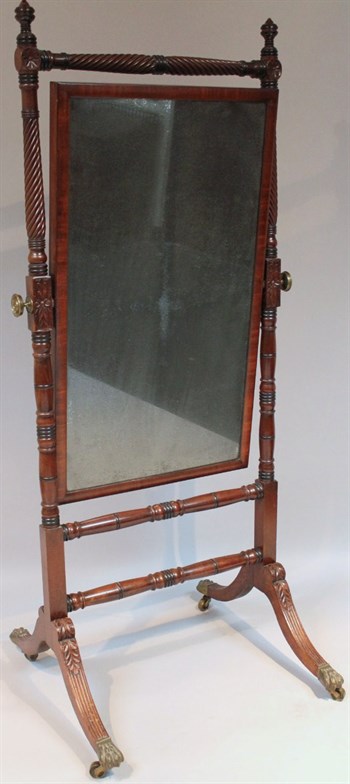 The table is estimated at £500-800 and the mirror at £400-600 – clear symptoms of a depressed market. You, the purchaser, could buy these period Georgian pieces at less money than Scandinavian repro – should be more like scandalous than Scandinavian!
Golding Young's auction at The Grantham Auction Rooms is on Wednesday 2nd March from 10am. Viewing will be on Tuesday 1st March from 10am until 4pm and from 8.30am on saleday.