After three years of quarterly Automobilia sales The Bourne Auction Rooms – being the former BRM workshops – Golding Young is now a regular calendar event for petrol heads.
The sale on Wednesday 10th February 2016 includes a collection from the estate of the late Lady Rozelle Raynes and her home of Butterfields within Thoresby Park.
Thoresby Park near Newark in Nottinghamshire has been synonymous with British autosport for decades.
Amongst the consignment includes a modern Porsche travel case, which happens to be attached to a 2009 Cayenne, but of early vintage is a Louis Vuitton travel trunk no. 39978, which is estimated to make between £1000 and £1500.
Other interesting items include a collection of enamel signs, posters, pit passes, toys and books. Auto artworks include paintings by John Pittaway, Keith Woodcock and other notables.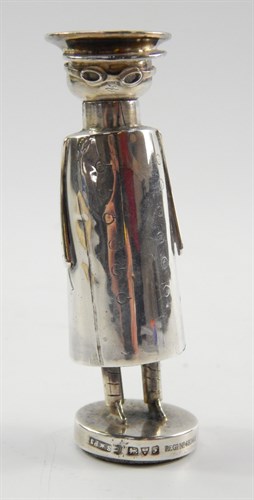 One of the most interesting lots is an Edwardian silver pepper pot dating from 1906 and depicting a chauffeur of the veteran period estimated at £200-300.
Ever present at these events is something of local and BRM interest. On this occasion the collection of ephemera from former employee Joy Dean will create interest and bids and maintain the momentum of nostalgia.