One of Lincolnshire's oldest established auction houses Thomas Mawer and Son is under new ownership from Monday, June 7 2010.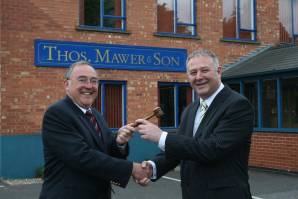 Owner Clinton Slingsby has passed the gavel to Colin Young of auctioneers Golding Young at Grantham after taking the decision to retire. Mr Young is probably best known for his TV appearances on programmes such as Bargain Hunt, Flog-It! and Dickinson's Real Deal.
Mr Slingsby, who remains at the firm as a consultant for the foreseeable future, said: "I am delighted to be able to hand the business to an established traditional Lincolnshire auctioneer and will be pleased to remain associated with Thomas Mawer and Son as a consultant."
An auctioneer for 42 years, Mr Slingsby started his career in 1968 and joined Thomas Mawer and Son in 1978, becoming sole principal in 1984. During his time at the Lincoln auction rooms, he has presided over around 700 auctions and sold many millions of items including the contents of country houses and churches and all manner of antiques and collectibles.
Day to day management of Thomas Mawer and Son is being handed to Senior Valuer and Auctioneer John Leatt who has been with the company for the last year after 19 years with auctioneers Dreweatts, latterly in Nottingham.
Administration staff at Thomas Mawer and Son will continue in their various roles and future expansion plans may also create new job opportunities.
New owner Colin Young, the principal of auctioneersGolding Young in Grantham, said: "I am delighted to be the next custodian of one of the finest firms
in Lincolnshire. Golding Young and Thomas Mawer and Son have worked together for many years and share professional resources as well as joint promotional initiatives.
"The synergy between the two firms is uncanny. Both are long established, both remain the market leaders in the region in the world of antiques and fine art, and most importantly professional practice is at the core of every service each centre provides."
Established in 1864, Thomas Mawer and Son is one of the East Midlands leading specialist auctioneers, handling antiques, works of art, ceramics, jewellery and collectables.
Golding Young, based on Old Wharf Road, Grantham, was established in 1900. Colin Young has been the firm's Principal Auctioneer and Valuer since 1994, having joined the company as saleroom manager aged 21 in 1989.
For more information about valuations and sales at Thomas Mawer and Son phone (01522) 524984 or visit www.thosmawer.com.