The humble Toby jug has intrigued collectors for generations, full of character and mystery, what were they produced for? When? And by whom?
The first thing to clear up is what is a Toby jug? Traditionally it is a full bodied figure often holding beer and acting as a jug, with moulded lip and handle. These differ from character jugs, which just show the head of the figure.
There are a number of theories regarding who made the first vessels. The name always associated is Ralph Wood (1715-1772) often romantically known as The Miller of Burslem. A great many Tobies have been attributed (often wrongly) to Wood and waters are muddied by the number of siblings and children with similar Biblical names: Ralph Wood junior (1748 – 1795) is a more reliable name, then there was Ralph senior's brother Aaron (1717 – 1785) and a variety of other members with Enoch Wood perhaps the only commercially successful relative. There is little doubt he made Toby jugs, but they were being produced before him and we are reliant on a number of pieces with mould numbers relating to the Wood Family ledgers to attribute makers. Other possible founders of these pottery topers would be Thomas Whieldon and John Astbury with a number of 'Midshipman' type wares of gentleman fiddlers, tailors and farriers often attributed to the latter. Rich orange, blues and yellow colours are associated with the producer William Pratt (d. 1799) of Fenton and areas near Leeds have said to use these vibrant decorations. 
Attribution remains a minefield and opinions have changed throughout time, the umbrella of Yorkshire or Staffordshire type still remain the vague but correct title.
The inspiration behind these figures is also up for debate. Henry Elwes a gentleman associated with the consumption of large amounts of strong ale or stingo, in the 18th century, is a likely candidate, but links to Sir Toby Belch, King Hal, Uncle Toby from Tristram Shandy and other figures throughout Staffordshire and Yorkshire have been made.
The most prized pieces are late 18th century in date with moulded features, good modeling, rich colouring and crisp facial definition. Hollow arms and legs are an early sign, as are light weight pieces, anything with R A Wood or a mould number is very desirable and variations include models of The Squire, Thin Man, The Sailor, Lord Howe and Martha Gunn.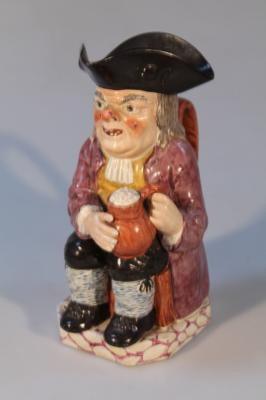 Prices remain high for the rarest pieces, but a number of high profile collectors such as Captain R K Price, Cyril Earle, Sir Harold Mackintosh and Lord Bute have not been replaced in the market place. Exceptional dealers are also no longer with us and interest has waned slightly. The character and complexity of these objects remain and although a pock ridden bloodied gentleman holding a pipe and jug looking off the mantelpiece is not everyone's favourite sight, the quality, mystique and durability of these everyday tavern ornaments only adds to their intrigue.