The Grantham Collective Sale Including The David Smith Collection outstripped its £100,000 estimate with sales going to national and international buyers from 16 different countries around the globe.
There were over 2,000 buyers from as far away as Australia and Russia registered in an effort to bid for what had been described as "proper old antiques" by the Principal Auctioneer and Valuer at Golding Young & Mawer, Colin Young.
The collection sold at the Lincolnshire firm's Grantham Auction Rooms on February 12. The sale was truly multinational with over 50% of the first day's lots offered for sale selling online. The sale had 593 bidders registered to bid online with a further 1472 registered to bid in the room, by telephone, commission or pre-register.
"There were so many highlights it's difficult to point to any one item and say 'that did well" said Young after the sale. "Whilst the furniture was undoubtedly a star, the collection did well right across the board which is a testament to the ability of David Smith."
A standout in the sale with Lot 101, a 19 th Century mahogany breakfront bookcase cabinet selling for £1600. Lot 112, A George II mahogany veneered lowboy with brass handles and a shaped frieze sold for £1100, whilst a 19th Century flared mahogany cased long case clock, Lot 146, signed Alex Dickie of Edinburgh sold for £1400.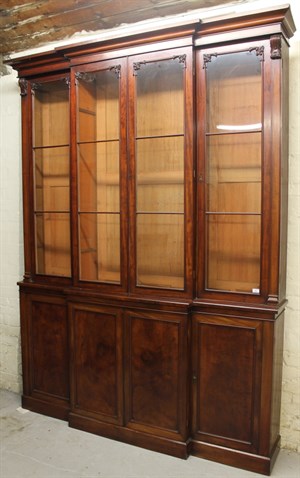 Elsewhere in the furniture section Lot 142, a 19 th Century yew and elm Windsor chair with burr walnut splat sold for £1400, Lot 763, a late 17th/early 18 th Century oak gate leg table on bobbin turned supports sold for £1900 and Lot 198 an oak turned stool sold for £850 proving that good quality furniture will always sell well in the saleroom.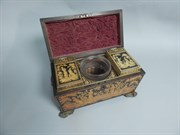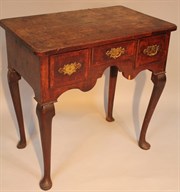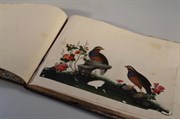 Other notable highlights from other areas of the sale were Lot 769, a Regency penwork tea caddy decorated with oriental figures. The interior featured two lidded caddies and a cut glass mixing bowl. The lot sold for £1200. A selection of Chinese watercolours in an album, Lot 426, sold for £1300 and three 19th Century copper cased powder flasks repoussé moulded with geometric and bird motifs sold for £420.
"It was a fabulous sale with lots of pre-sale interest, especially on the Sunday. We don't open for viewing at the weekends very often, but when we do we always attract a good crowd. The amount of pre-sale condition reports from here and across the globe was phenomenal." Said Grantham saleroom manager Andrew Doubleday.
The saleroom is now accepting consignments for the March Collective sale which will take place on March 5/6. Interested parties can visit the Grantham Auction Rooms on Old Wharf Road, between 9am-1pm and 2pm-5pm or call the saleroom on 01476 565118.