Terry Shelbourne was a locally renowned and respected artist and cartoonist, especially within Grantham itself.  First born in Agnes Terrace, Terry always had a flair for art. He started out at the Nottingham College of Arts & Crafts.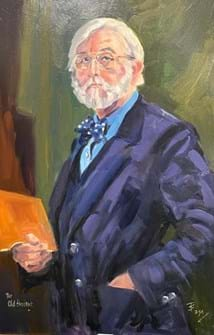 After studying he started his career as a cartoonist for the magazine Mag-o-Marc for BMARC (British Marco Ltd.), the bosses of whom then later bought the Grantham Guardian and he soon became a member of the team.  After a short break to serve the RAF he came back to Grantham and returned to working with John Coxworth on Watergate painting humorous pub signs. Many of which could be seen in the pubs throughout the town for many years. After leaving this career he moved from the late 1980's to his segment in the Grantham Journal creating cartoons of local people for well over 30 years.
A close friend once said he quoted,  "Art has been my life and nothing else. I love Grantham and I love art. I'm a very lucky chap."
His family has also been local to Grantham for many a year with his father an engineer at Ruston & Hornsby, whilst his grandfather was a taxidermist, who currently has works at the town museum.
Whilst I leave you with the Catalogue to View for his estate sale, I have to finish with a few thoughts and memories of my own.  When I first came to Grantham in 1989, Terry was already established as the cartoonist at the Grantham Journal.  If you excuse the pun, I was naturally 'drawn' to his work being a huge fan of this satirical genre from Hogarth to Viz and most artists in between that want to make you smile.
At that time, Goldings head office was on 45 High Street was next to the Journal offices and Terry was frequently calling in to see us and catch up on the latest town news, and of course as a visitor the Auction Rooms which has always played a key part in the community.  I remember Terry drawing me fairly early in my Goldings career when I was competing in the National Auction Competitions and over the years a couple of others were also produced.
My prized TS cartoon was drawn in December 2002 when David Dickinson and Bargain Hunt came to Grantham for the first time and filmed the Bargain Hunt Christmas Special at the start of that career.  As ever, Terry got the story spot on with such humour and as ever, a kindness that jumps out of the page.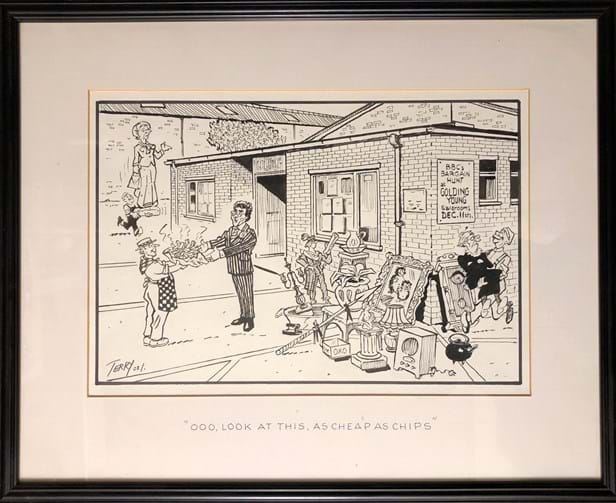 It is fair to say that all who have been drawn by Terry, think they knew him well, but I suspect it was that Terry really knew us far far better! 
The Terry Shelbourne Collection will be sold as part of the Collective Sale at The Grantham Auction Rooms on Wednesday 10th February, 2021 and includes his collection of cartoons, caricatures, arms, bronzes, and collectables.