Specialist sections come no better than the collection of scratch built steam engines to be held at The Bourne Auction Rooms on Wednesday 8th February, 2017 as part of our Automobilia Sale.
From a steam tractor of large scale through a collection of stationary engines, boat motors, scratch built live steam trains, a rare as you like steam ship and a number of table top traction engines, not to mention the gauges, dials and tools to fix them, this represents an amazing collection built up over a lifetime from a private vendor.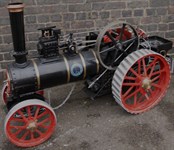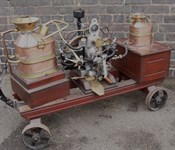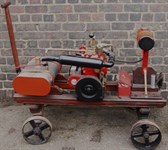 The number of items is staggering and the quality is just as amazing. The pinnacle pieces are surely the two live steam tractors, capable of pulling a number of trucks, the like of which rarely turn up for sale. The first is a model of a William Foster steam tractor, scratch built measuring approximately 180cm wide and 90cm high. It is a faithful, working representation and the overall craftsmanship on these items is second to none.

Pockets will have to be deep to afford the larger items, which although difficult to value due to rarity will run into the tens of thousands each in some cases.
There is then the collection of stationary motors and engines, culminating in a Stuart engine probably off a boat, dating to the early 20th Century. It is in its original condition and presumably in working order, there are other engines by Ruston, Palister and Co. and so on, which seldom come up for sale and are also in original order. A Vermorel crop spray tank on truckle base will turn a few heads due to rarity and overall the engines and stationary pieces are of high standard.
There are also a number of table top stationary and scratch built items to include show style wagons, a very rare steam powered boat as well as a great deal of gauges and dials from steam engines, a huge quantity of tools and related effects and a massive number of the engines themselves.
The Automobilia Sale will be held on Wednesday 8th February at The Bourne Auction Rooms – keep your eyes peeled for further information on goldingyoung.com.