Call it coincidence, fate or destiny - the moment when Stamfordian architect Henry F Traylen (1874-1947) met Wilfrid Rene Wood's uncle was to change the younger Wood's life forever.
This chance encounter led to a commission to paint the architectural buildings within Stamford. Wilfrid Rene Wood (1888-1976) work was to become a record of significant historical interest, capturing the buildings and street scenes, some of which no longer exist, both within Stamford and Peterborough.
His book entitled '12 reproductions of watercolour drawings of Stamford' was dedicated to the memory of Traylen. The drawings which include views of St Martins Without, St Marys St, St Marys Hill, Red Lion Square, Scotgate, St Peters St and St Georges Square, were exhibited at the Assembly Rooms in November 1955 - now part of the Stamford Arts Centre, where his name adorns the Wilfrid Wood Art Gallery. Two of his landscape paintings can still be seen on display today, as well as a copy of his portrait by Mrs Gladys Teesdale.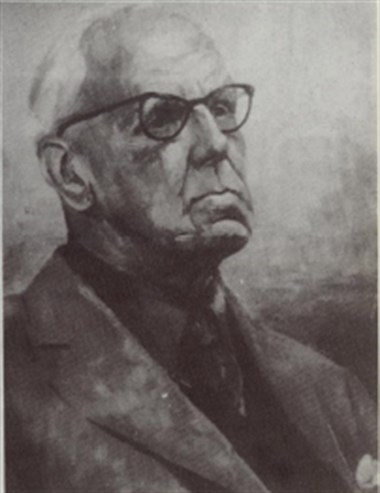 A painting of St Mary's Hill as seen from the footpath outside Pizza Express looking up the hill, two sketch books and a signed copy of his book '12 reproductions of watercolour drawings of Stamford' will be auctioned at the 150th Anniversary Sale at The Bourne Auction Rooms on 2 September.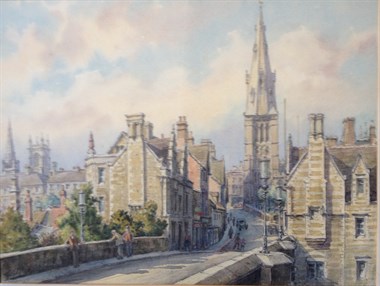 "The sketchbooks have been passed down to our vendor from an Aunt and Uncle who were good friends with the artist. His work forms part of Stamford's rich cultural heritage and should be preserved - alongside the existing sketch books and paintings already exhibited locally - for future generations." said Colin Young, from Auctioneers Golding Young.
The sketch books capture scenes from the home guard training at the Longthorpe training ground in Peterborough during 1944, many London scenes and landmarks as well as tours in the Pyrenees, Andorra, and Avignon.
"It would be sacrilege to break down and sell the sketch book images separately as the compilations tell us a story of his travels." said Colin, "This veteran of the First World War and early member of the Welland Valley Art Society undoubtedly made a significant contribution to art within the town."
If you would like to preview the Wilfrid Rene Wood items beforehand, Lot 2000, the view of St Mary's Hill, estimated at £800-1200 now £300-500, is currently on view at The Stamford Valuation Office in The George Hotel Mews, or the rest of the items will be available for viewing on 30th, 31st August and 1st September at The Bourne Auction Rooms between 10am and 4pm.
Visit us at The Bourne Auction Rooms on 2nd September where the sale is due to take place from 10am.
If you would like further information, please contact our team at The Bourne Auction Rooms on 01778 422686 and we'll be happy to answer any questions you may have or view the full sale catalogue online from 22nd August