A specialist Wine, Whisky & Spirits auction took place during the monthly collective sale at the Grantham Auction Rooms on November 6th. Collectively the lots fetched £28,000 in the sale room on the day.
Andrew Doubleday, saleroom manager said: "I'm really pleased with the sale results. Before the sale we had a lot of enquiries about the various bottles we were offering for sale. On sale day we had bids from as far away as China and New Zealand."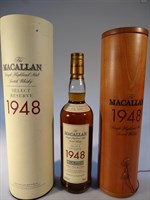 The star lot was a Macallan Single Malt 1948 reserve, still in its original wooden presentation box. Only 366 bottles were released by the Macallan Distillers. After some spirited bidding, the successful bid was received over the internet for £4,000.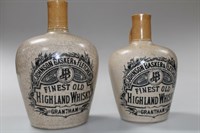 Also within the sale was a slice of local Grantham history. Two stoneware whisky bottles by Grantham spirit wholesaler, Johnson, Basker & Fletcher. Together they fetched £700 in the saleroom.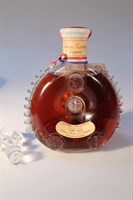 Elsewhere in the specialist section, two bottles of Glenfiddich Vintage Reserve fetched £550 each, a Remy Martin Louis XIII Cognac in baccarat decanter reached £1,200 and four bottles of Courvoiser Grand Cognac Champagne, Erte Collection made £2,400.