Over £100,000 of pictures sold to local, national and international buyers at the second Specialist Fine Art sale of the year at the Lincoln auction rooms.
Held at auctioneers Golding Young & Mawer's Portland Street saleroom, the evening sale featured 225 lots in three sections: 19th century and modern, local interest and 18th and 19th century.
Auctioneer William Gregory said: "The second Specialist Fine Art sale of the year included fine examples by leading artists that appealed to collectors worldwide and attracted a good deal of pre-sale interest.
"We predicted the lots would sell for around £100,000 and the sale actually achieved £105,000 with good attendance in the room as well as high numbers of bidders on the phones and on the Internet."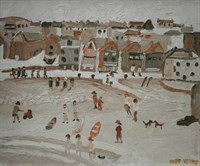 The first section of the sale, which was held on June 26, featured 19th century and modern pictures, many of which had been consigned by a private collector from Nottinghamshire. It began with a signed oil on board titled 'Beach scene' by Fred Yates (1922-2008) which sold to a telephone bidder for £1,200. The second lot was a signed oil on board of an 'Italian male' by the Scottish colourist, Alberto Morrocco (1917-1998), which sold for £2,900 to a private collector from Perth in Australia.
A drawing/watercolour/collage by Mary Feddon (1915-2012) of a bird in a naturalistic setting, signed and dated 1985, sold for £2,000 to a collector from Leicestershire, whilst a watercolour and gouache painting by Roy Turner Durrant (1925-1998) titled 'Landscape' from his Airfield series sold to an internet bidder for £950.
A signed oil on canvas still life of a model ship by John Boyd (1940-2001) was keenly fought over by a local collector in the room who lost to an Internet bidder. It finally sold for £3,800, more than twice its top estimate of £1,600.
An oil on canvas of a seated female by Anthony Devas (1911-1958), which bears the label of William and Sons, Grafton Street, London, sold for £1,200.
Two signed oil on glass works titled 'Sun Rise' and 'Sun Rise II' by Richard Rowan (b. 1974) sold for £500 each.
The next section of the sale, Local Interest, included a pastel study of two females by the Lincoln artist Antonin (Tony) Bartl (1912-1998) which sold for £200.
There were also two oil on boards by the well-known Lincoln artist Gill Nadin (1928-1996) which sold for £80 each. Both dated 1976, the first painting was titled 'Welches Dam - Early Morning I' and the second, 'Early Morning II'.
A watercolour of a country house with a lake and figures in the foreground, which was thought to be Sudbrooke Hall in Lincolnshire, sold for £600. The work, which was dated 1836 and signed by the artist Thomas Miles Richardson (1784-1848), sold to a collector from the Lincoln area against fierce competition from a bidder in the room.
A watercolour of Lincoln from the West Common, signed and dated 1976, by Len Roope (1917-2005) sold for £160, against an estimate of £80 to £120.
The 18th and 19th century section of the sale included a good selection of hunting and shooting pictures included a signed oil on canvas titled 'Spaniel picking up pheasant' by Henry Wilkinson (1921-2011) which sold to a local private buyer for £1,200, well over its £500 to £800 estimate.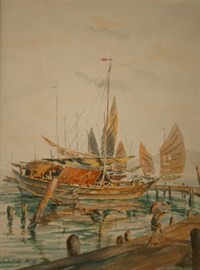 A number of topographical works achieved very high prices in the sale, starting with two works by the Malaysian artist Abdullah Ariff (1904-1965) which attracted bidders from Malaysia, on the Internet and in the room. Both pictures carried the artist's address in Penang on the back and sold for £3,400 against estimates of between £800 and £1,200. The first was a signed watercolour titled 'Harbour scene with boats and figures' and the second was a watercolour, 'Oxen, cart and figure'.
Mr Gregory said: "Ariff ran art classes in Penang and painted in the mid-20th century in an Anglo style. He is now a very considered artist who influenced Malaysian culture and Western art.
"Such topographical pictures have gained in popularity and value because people want them back in their country of origin. We saw a lot of interest in these paintings from Malaysia."
Two pictures of Hong Kong Harbour also achieved good prices in the sale. A watercolour of the harbour with a liner, fishing smacks and a railway track in landscape by the early 20th century Chinese/Anglo artist Ling sold for £1,000, against an estimate of between £200 and £300. Meanwhile, a watercolour of the harbour with masted ships and figures on the shoreline by an artist from the 19th century British School attracted four telephone bidders and finally sold to an Internet bidder for £2,200.
The highlight of the sale was an 18th to 19th century oil on canvas of a 'Colonial coastal settlement', probably in South America, which outstripped all expectations to sell for £26,000 after competition from three telephone bidders.
Of the many traditional paintings in this section of the sale, an oil on board titled 'Bords de Riviere' signed by the artist Theodore Rousseau (1812-1867) sold for £2,800, whilst an oil on canvas of sheep and cattle on a landscape by Thomas Sidney Cooper (1803-1902) sold for £1,300.
An oil on board 'Farm gate in landscape', signed by the artist William John Leech (1881-1968) sold for £2,200, well over its £800 to £1,200 estimate and a signed oil on canvas of a river landscape by Henry Joseph Harpignies (1819-1916) sold for £2,200.