A small centrepiece decorated with frogs will be one of the highlights of the May sale at the Lincoln auction rooms.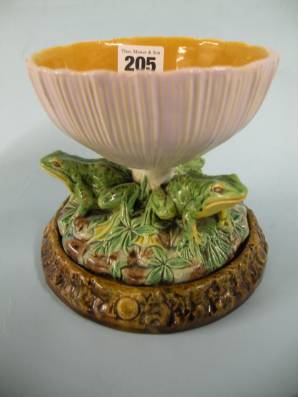 The 19th century Minton Majolica bowl was brought into the free Friday valuation clinic at Thomas Mawer and Son of Portland Street. It will now be featured in the next sale on Saturday, May 8.
Auctioneer John Leatt said: "The vendors inherited the bowl from a relative and had no idea of its value or importance.
"Majolica items are popular with the American market and we expect the bowl to fetch between £600 and £1,200 in the sale."
Bidders will be able to watch the sale and bid live online via an Internet bidding system.
eanwhile, a mid-19th century woolwork picture of a ship is expected to fetch between £200 and £400. These pictures were traditionally made by sailors on board ships, or by their wives or girlfriends waiting for them to return home.
A limited edition silver plated Babycham Bambi mounted on an onyx base and made in the early 1980s as a prize in a trading competition is expected to attract interest from collectors. Licensees were asked to guess the vintage of various Babycham point of sale items and only 10 model Bambis were available as prizes. It will be sold with six Babycham glasses.
Mr Leatt said: "As this is the only model that has subsequently come onto the market, we expect it to fetch between £300 and £500 and attract bids from collectors of advertising and pub memorabilia."
Of several pocket watches in the sale, two 18 carat gold examples with gold fobs by Waltham USA are estimated to fetch between £400 and £600 each.
There are also two interesting Lincolnshire pocket watches in the sale. The first is an early 19th century pair-cased pocket watch by clock and watchmaker John Hyde of Sleaford, which is expected to fetch between £200 and £300; the second is a silver pair-cased pocket watch which features an unusual enamel dial painted with a ploughing scene by George Border of Sleaford, which is estimated to fetch between £250 and £350.
Following on from the success of the sale of several early 20th century auction catalogues of Lincolnshire houses andestates, two lots have been entered into the forthcoming sale. The first lot contains a catalogue for The Somersby Estate, near Spilsby, 'The Birthplace and Early Home of Lord Tennyson', which was sold at auction in London onJuly 15, 1926 and also Harrington Hall near Spilsby,described as a 'charming 17th century residence', which sold at auction at the White Hart Hotel,
Spilsby on September 24, 1926. The same lot also contains a catalogue for the sale of Dalby Hall and Skendleby Thorpe freehold estate near Spilsby which was the property of the late Bartholomew Claypon Garfit Esq. J.P. It was sold on March 19, 1923 in the same venue.
A second lot of catalogues contains details of Dawber and Co's Brewery, Lincoln, established in 1826, which was sold at the Corn Exchange, Lincoln, on September 27, 1905. The auction included the sale of the brewery, brewery plant, machinery and malt kiln which fronted onto Carholme Road and the River Fossdyke. It also included the sale of 52 pubs in the city and surrounding villages, including Lincoln pubs like the Cross Keys Inn on Union Road, the Coach and Horses on Newland, the Chequers on Monson Street and the Great Northern Hotel close to the railway station, and nearby the Pyewipe Inn and the Saracen's Head at Nettleham.
There are also catalogues for the Hatton Estate between Lincoln and Horncastle in 1936, Claremont House at Welholme Avenue, Grimsby in 1909 and The Burwell Park Estate near Louth, including Burwell Hall, in 1914.
Elsewhere, a collection of Royal memorabilia by Aynsley and Caverswall, including some pieces handpainted by the artist R.A.Shufflebotham (1939-2002) are expected to make good prices in the sale. Among the lots are a pair of Silver Jubilee jugs painted with scenes of Balmoral Castle and Buckingham Palace and marked 13 out of a limited edition of 30.
In the furniture, a late-19th century satinwood and marquetry oval Pembroke table, inlaid in the Sheraton style, is expected to fetch between £200 and £400.
A full catalogue is now available online at www.thosmawer.com For more information phone (01522) 524984.