Golding Young are delighted and privileged to bring a private collection of items and ephemera relating to Sir Frank Whittle to the market when they go to auction on September 3rd at The Grantham Auction Rooms.
The collection has been put together over many years by a close friend and associate of Sir Frank Whittle, Roy Fowkes.
Sir Frank Whittle started his career at RAF Halton as an aircraft apprenctice before going on to officer training at RAF Cranwell. He spent time at RAFs Hornchurch, Wittering and Henlow before attending a two-year engineering course at Cambridge University.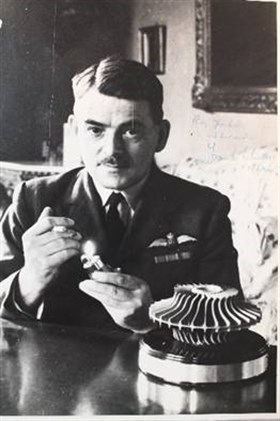 Perhaps his greatest and most well-known achievement was as the inventor of the jet engine. Together with friends and with the backing of investment bankers, they formed the company Power Jets in 1935. The company started out in Rugby before moving to Lutterworth in Leicestershire where they carried out extensive developments into jet engine propulsion. With the onset of the Second World War, the company was nationalized and brought under government control.
"I was an engineering apprentice at Power Jets in the 1940s so knew of Sir Frank, but I wasn't privileged enough to be introduced to him. It was only through my connection with the Reactionaries that I met Sir Frank" said Roy Fowkes.
The Reactionaries were formed by ex-employees of Power Jets. Forming life-long friendships amongst themselves they wanted to celebrate the anniversary of the run of the first engine. An annual dinner was established at Farnborough.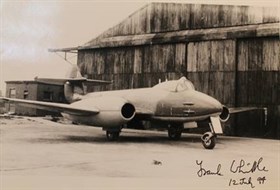 "Sir Frank would turn up on occasion. I was introduced to him at a dinner in the 1970s by a close friend, a senior engineer who knew Sir Frank well and had Sir Frank and his wife stay at his house. I was very impressed. He was a very easy man to get on with. I organised a dinner myself and managed to get him back over to the UK. He was living in the US with his wife who was American. We met up in London at his hotel and I was surprised to see him slumped in his chair, fed up. He said he couldn't sit down without someone asking him something, or wanting something from him. I invited him to stay with us at our home and our friendship grew from there."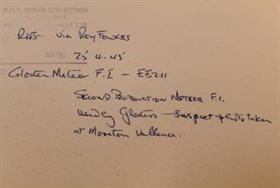 "Various people would ring him up and ask him to speak or attend an event. He ended up getting himself in a bit of a muddle. Roy he said, I think in future you need to take over my itinerary. I became an important cog in the wheel and he often referred to me as his 'unpaid ADC'!
Roy went on to assist Sir Frank with organizing and managing his engagements when in the UK. It was during these stays that Sir Frank would give various momentoes to Roy rather than carry them back to the US.
Over 50 items from the private collection are being offered for auction on September 3rd including: Lot 2286 a Cranfield University gown and cape as worn by Sir Frank Whittle, Lot 2288 a Ruinart Pere & Fils Champagne bottle, with a label signed by Sir Frank Whittle and various other individuals present at the first flight of the jet engine at Cranwell May 15th 1941, as well as a wide selection of signed photographs of Sir Frank Whittle and photograph albums.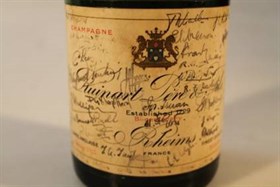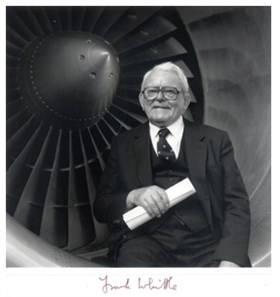 Roy had this to say about the man behind the brilliant engineer: "I couldn't get over his ability to talk to anyone, as though he'd known them all his life. He could talk about any subject, with ease. He had a great sense of humour and was so polite! He really was the most wonderful man and perfect individual who loved his country. He was a human being as well as a brilliant engineer."
The public will be able to view the Sir Frank Whittle memorabilia between 10am and 4pm on 30th August to 1st September, before they are sold at auction on 3rd September.
If you would like further information, please contact our team at The Grantham Auction Rooms on 01476 565118 and we'll be happy to answer any questions you may have or view the full sale catalogue online after 21st August.