In an age of fast food, speed of consumption and lap trays before the TV, it is good to see that the best dressed tables still need Silver to dine for!
If you still want that quintessential English formality there is plenty to feast your bidding eyes at auction.
Let us start with candlesticks; you need to see what you are eating. A pair of Victorian silver table candlesticks can cost as little as £3-400. This 1890 set of four candlesticks by Martin Hall & Co from London recently sold for £1,000.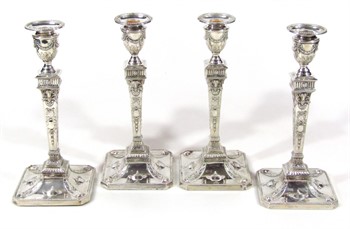 Silver dinner plates do not appear at auction in large sets often, but when they are Georgian and by notable makers the competition is fierce. This set of thirty-five silver dinner plates by London silversmith James Young commanded intense bidding to £18,600. Perhaps this explains the popularity of porcelain and pottery?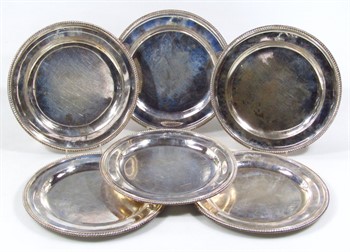 Next you will need cutlery and flatware in abundance for all of those courses when entertaining. This is where you can enjoy the thrill of the chase in collecting. Choose a pattern, choose a period or even just a maker and you will be able to build canteens that match to all but the most critical of eyes, but hopefully they will be more interested in your cuisine. This group of Victorian fiddle pattern wares recently sold for £1,100 making it very affordable matching in dates from 1838, but as modern as 1975 and retaining that ambiance and air of quality.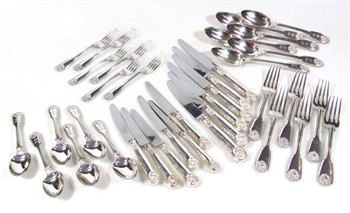 And finally you will need to serve your guests with style. This pair of Victorian serving dishes by Garrard from 1852 sold for £1,000.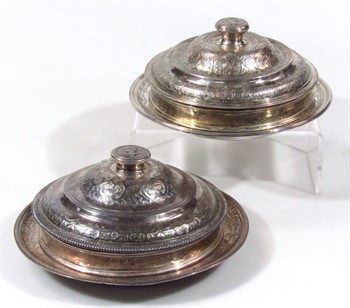 And, to make sure you have covered everything, this pair of George II double lip sauceboats circa 1725 sold for £2,700. Typically you can still buy a modern one for less than £150 if you like your gravy just that little bit thinner!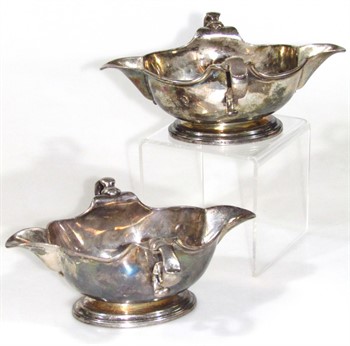 If you will never return to dressing your dining table this way, make sure you clear out the sideboard of all that silver and take it to an Auctioneer Regulated by RICS to ensure that it will be a feast of enjoyment for others in the future.