A vast collection of silver and gold can be found amongst the 1400 lots in the next Collective Sale on Wednesday 4th May. The good news is it consists of many forms; jewellery - whether it be diamond solitaires, sovereign bracelets, decorative rings or a cavalcade of all that shines - through to silver trophies, snuff boxes and rose bowls, spanning from 1777 to almost the current day.
The sale kicks off with an impressive campana shaped trophy. Heavy for the antiquarian sacrilegious amongst you who would (horrors!) melt it down and appealing to those who just like good quality things. This quite enormous cup has it all; chasing, repousse work, scrolls, acanthus leaves and veil work. It is obviously Victorian without looking at the hallmark, but used later in the 20th Century as a racing trophy for sporting trials. The plaque associated with this and the base emblazoned with recipients is steeped in history, but can be easily removed from the trophy if you don't want it. Such a piece caters for all. It will always be worth something in its scrap value, it appeals for its beauty and everyone loves a trophy!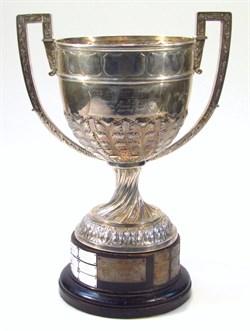 If your sideboard cannot hold such a beast, perhaps the George III candlestick or two George IV snuff boxes will catch the eye? All can be classed as high brow, collectable, traditional antiques, which should be in a different parish to a set of weighing scales but it has to be said; silver stock is rising, gradually creeping towards £10 per ounce and up from the £6.90 it recently was as little as eight months ago. Show us a bank with similar interest rates and we will be very surprised.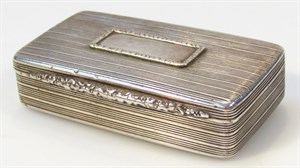 Going back to the items though, they are classic antiques, surely holding and exceeding their current values and I imagine all three could be on your mantelpiece by the end of the day on the 4th for the thick end of £400. Bargain you cry? Well, using banking terminology once more, Golding Young like to say YES!
There is an array of other items from several sources; a one carat diamond solitaire, a number of table objects, miniature tea service, George V bowls, gold sovereigns and bracelets and decorative jewellery to cater for all needs, Victorian, Edwardian and modern pieces for all.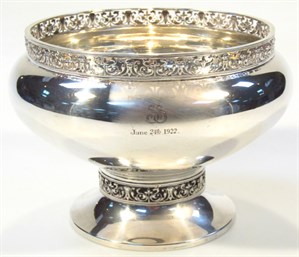 If furniture is your thing, we have a monumental selection of that as well. Including the contents of Thompsons Solicitors in the heart of Grantham, selling a quantity of office equipment, Victorian and later pedestal desks, effects, fittings, law books, catering equipment, chairs and other furnishings - if there was a kitchen sink it would have a lot number on it! It is all to be sold at Grantham on the 4th along with an array of other diverse furnishings; 30 lots of interesting garden statuary, staddle stones, troughs, a Victorian style bar and for inside there's plenty to go for too. Old Charm, Stag, Georgian, Gillows, Victorian, Deco - it's all there! There is a strong ceramics selection including Royal Crown Derby, a private selection of objects of vertu including Nottingham alabaster patch boxes, Russian icons, alabaster figures and 18th century papier maché the sale is high brow, large in number and appealing to all.
The auction is at The Grantham Auction Rooms on Wednesday 4th May. Viewing is at the saleroom and on site at Thompsons on Tuesday 3rd May 10am – 4pm and on sale day from 8:30am. The sale commences at 10am – the solicitor's contents will be sold at around 12 Noon.