The Automobilia Sale at The Bourne Auction Rooms on Wednesday 9th November features some of the very best signs for road and rail, including a collection of over forty from a single private collection.
Probably one of the rarest examples is a road sign marked 'Tram Pinch', which is Lot 121 in the sale. More traditional signage for automobilia enthusiasts include Lot 39, which is a Castrol Motor Oil enamel sign, estimated at £80-120. Of a similar vintage and from another collection near Lincoln is Lot 34, which is a Castrol Oils dispensary containing trolley, still holding a selection of Castrol XXL oil bottles. These have frequently made between £250 and £400.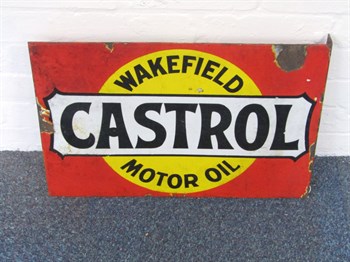 Auctioneer Colin Young commented, 'This section of the sale has just over 150 lots and is one of the best sales for some time because of the quality and variety of lots'.
The Bourne Auction Rooms is the former workshops of the BRM Formula One team and is always looking for entries for future sales - bourne@goldingyoung.com