For many 'place settings' and 'silver service' evoke thoughts of Downton Abbey or fine dining in expensive London restaurants. But over the last 10 to 20 years, the thought of setting a table for a dinner party or just dinner is simply alien to some and the concept of buying a house with a dining room or creating a dining room is unusual to say the least.
People who want to buck the trend and eat off some of the best china this country has to offer have the opportunity to purchase a huge range of pieces at the next Lincoln Collective Sale on 15th August.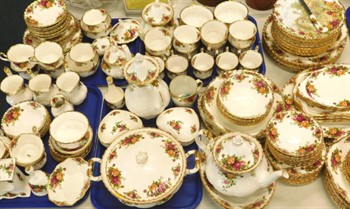 Extensive dinner, tea and coffee services by some of the greatest manufacturers over the last 200 years, such as Wedgwood, Royal Doulton, Royal Worcester, Royal Crown Derby, Royal Albert, Portmeirion, Susie Cooper and Denby are on offer in the auction.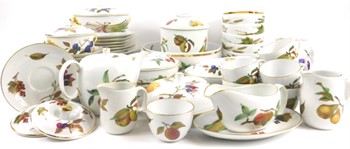 There is a vast array of designs on offer, ranging from the traditional 1128 pattern of Royal Crown Derby and Wedgwood Jasperware, to pieces from the 1960's and 1970's designed by Susie Cooper, Portmeirion and others, in very much a fashionable retro style. Prices will vary dependant on the maker and size of service, with estimates as low as £10 on some lots to well over £200 expected to achieve on others.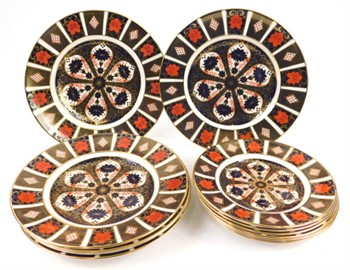 Elsewhere in the sale, a good number of medals and militaria is on offer, such as First World War medal groups, uniforms, pistols and a rare Sadler 'Old Bill' teapot. The teapot features a mottled blue and green glaze, with the lid modelled in the form of Old Bill, a well-known cartoon character from the war, and the base is in the form of a tank; so synonymous with Lincoln.
The collective auction will also include collections of whisky and spirits, Steiff and others bears, soda syphons, coins, stamps and books. With over 1000 lots on offer this month there is sure to be something for everyone's taste.
The Lincoln Collective Sale is on August 15th. Viewing will be open on August 14th between 10am and 4pm and from 8.30 on the morning of the sale.