A bronze sculpture of a seated fawn, bought at an antiques fair in America for just $300, looks set to make a handsome profit for its owner in the October sale at the Lincoln auction rooms.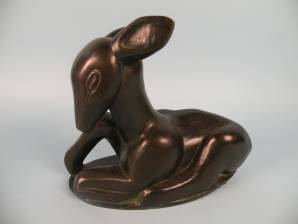 The casting, titled 'Crouching Fawn', is the work of French sculptor Henri Gaudier-Brzeska (1891-1915) whose work is in the Tate Collection and will be the focus of a new exhibition at the Royal Academy of Arts in London later this month.
The bronze is included in a special two-day sale at auctioneers Thomas Mawer and Son on Tuesday and Wednesday, October 13 and 14.
Auctioneer John Leatt said: "The sculpture was bought at an antiques fair in Brimfield, Massachusetts by a local man for just a few hundred dollars.
"Bronzes by Gaudier-Brzeska have fetched over £20,000 in auction and whilst we have entered the fawn with a conservative estimate of £5,000 to £8,000, the owner may be in for a nice surprise! We already have international interest. "
Henri Gaudier-Brzeska was a French sculptor who developed a rough, primitive style of direct art in which tool marks are often visible on the final work.
Born near Orleans, he moved to London to become an artist even though he had no previous training. He brought with him Sophia Brzeska, a Polish writer over twice his age who he had met in the Bibliotheque St Genevieve in Paris and had taken her name.
Inspired by his carpenter father, he became a sculptor and fell in with the Vorticism movement of Ezra Pound and Wyndham Lewis and established the London Group. He advocated that sculpture should move away from the highly polished style of ancient Greece, towards a more earthy direct style of carving.
In the period between 1905 and 1915, Gaudier-Brzeska and his contemporaries Jacob Epstein and Eric Gill had a radical impact on British sculpture.
When World War I began, Gaudier-Brzeska enlisted in the French army and went on to receive a decoration for bravery before being killed in the trenches at Neuville-St-Vaast aged just 23.
Sophia inherited Gaudier-Brzeska's entire estate and a memorial exhibition of his work was held in London in 1918.
Sophia later died in a Gloucester mental asylum having never got over Gaudier-Brzeska's death. Later Jim Ede, the assistant curator of the Tate Gallery and an art collector, acquired much of Gaudier-Brzeska's work from Sophia's estate including letters between Henri and Sophia which later became the basis for his book on the artist's life and work, titled 'Savage Messiah'.
A new exhibition titled 'Wild Thing: Epstein, Gaudier-Brzeska and Gill' will be held at the Royal Academy of Arts in London from October 24 to January 24. It will feature 90 works including sculpture, drawings and pastels and will focus on the achievements of each artist and their impact on British sculpture.
Roger Cole from Lincolnshire is author of 'Burning to Speak', the first ever catalogue of Gaudier-Brzeska's sculptures. He was also the researcher for the film by director Ken Russell titled 'Savage Messiah/Lust for Life'.
He said: "The artist was one of the young men who were killed in WWI at the prime of their artistic development and commentators have said no-one will ever know what Gaudier-Brzeska could have achieved had he lived longer.
"He was a prolific artist in terms of drawing and did a series of animal and bird studies based on drawings he did at Bristol Zoo, London Zoo and Richmond Park where stag and deer were roaming free at that time.
"His later work became abstract in the contemporary sense of the word and was based on the human figure and on animals."
A full catalogue is now available on-line. For more information phone (01522) 524984.