Over 200 pieces of Danish silver by some of the greatest designers of the Art Nouveau and Modernist period are to be soldby at the Lincoln Collective Sale on the 18th and 19th of July.
The two-day auction includes pieces by perhaps one of the greatest silver smiths of the 20th Century, Georg Jensen (1866-1935). He was the son of a knife grinder who started to train as a goldsmith in Copenhagen at the age of 14. After his apprenticeship he longed to be a sculptor and in 1892 he graduated from the Danish Royal Academy of Fine Arts. His first job was as a modeller for the Bing and Grondahl porcelain factory in Copenhagen, and shortly afterwards he set up his own pottery in conjunction with Christian Pedersen. In 1901 he abandoned ceramics and worked as a silversmith for The Great Master Morgen Ballin, later setting up his own small silversmiths in Copenhagen, in 1904.
Jensen embraced the now fashionable Art Nouveau designs and soon his creations caught the eye of the Copenhagen and wider public; so much so that by the end of the 1920s he had expanded his headquarters and opened retail outlets in Berlin, London and New York.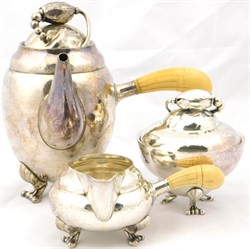 After Jensen's death, the business carried on with remarkable success by using several well-known designers, like Harald Nielsen, Sigvaard Bernadotte, Nanna Ditzel and Arno Malinowski. The timeless designs of Jensen and latterly his team of designers are a testament of Scandinavian craftsmanship and practicality, ultimately making them incredibly desirable. The estimated prices start at a modest £50, with some of the earlier and larger pieces likely to make more than £3000. All these pieces are consigned from The Estate House at Harewood near Leeds. There is also a broad spectrum of other items consigned from the property with a Scandinavian interest, including Royal Copenhagen dinner and tea services, figures, ceramic sculptures, Danish furniture, a wall hanging and the like.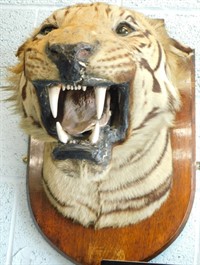 Elsewhere the auction has a wide range of items consigned from other vendors; from an early 20th Century taxidermy tiger's head by Gerrard, to an early 19th century silk embroidered map of England by Mary Sykes, dated 1801, aged 12 years. A strong furniture section of over 300 lots, includes something for everyone: 1960s Ercol, mid-18th century English walnut cabinets, chairs, as well as a range of practical and interesting furniture from most periods.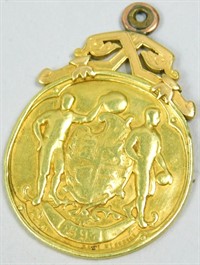 Considering the recent highs and lows of English football there is also a collection of football medals and memorabilia consigned by a local vendor. The pieces all relate to George Toone, the former England and Notts County FC goalkeeper of the late 19th century. The collection of 4 items includes his 18ct gold FA Cup winning medal from 1894 and his cap from the final. From another source there is also a montage of reproduction ticket stubs, photographs and other memorabilia in a glazed mounted frame, signed to the centre by Sir Geoff Hirst, the hat-trick hero of the World Cup winning side in 1966.
The Lincoln Collective Sale is on July 18th and July 19th. Viewing will be open on July 17th between 10am and 4pm and from 8.30 on the morning of each sale.