Golding Young are delighted to offer for sale works of art by local Lincolnshire artist Ken Rush as part of the Collective Sale to be held at The Bourne Auction Rooms on Wednesday 11th November.
Ken Rush has been working as a commercial artist for many years, specialising in automobilia and aviation subjects. At the age of 14, he was the youngest artist at that time to have been accepted into the Royal Academy Exhibition. He was also voted Illustrator of the Year 1976 and his car and plane illustrations have featured prominently in a huge number of high class publications throughout the world. He has produced work for Brooke Bond tea cards and paintings for kit box tops for firms such as Airfix and Revell. He has also been commissioned for a series of works for Kuwait Airways and was elected an Associate of the Guild of Aviation Illustrators, exhibiting at the Pall Galleries in London in July 2015.
His illustrative work across a broad range of motor vehicles and aviation subjects is of the highest calibre and when offered previously by a London saleroom was very well received.

Also being offered is a selection of 22 United States Express Company passenger steamer timetable posters dating from October 1908. This represents a wonderful insight into the westbound and eastbound passenger steam ships sailing between many different parts across Europe and The Americas. Sadly the collection does not feature the SS Titanic but does mention the Olympic and the Carpathia from the White Star Line. The posters are unframed but are in remarkably good condition for their age, despite some foxing. The estimate is £300-£400.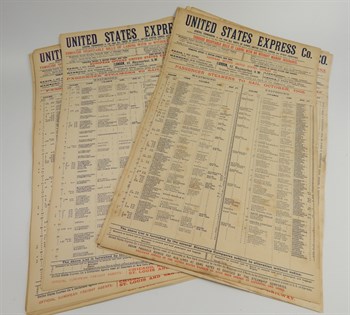 Another lot of note is Lot 134, a rare Foley bone china part tea service designed by John Armstrong, which is handpainted with fish. It is a very rare pattern which should create considerable interest. It has an estimate of £200-£300.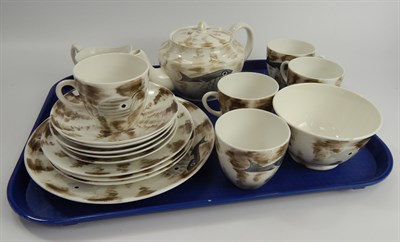 The sale is on Wednesday 11th November at The Bourne Auction Rooms from 10am. Viewing is on Tuesday 10th November from 10am until 4pm and from 8.30am on saleday.