The jardinière, which was the first item brought in to the inaugural valuation day at the Saracens Head in Southall, is expected to sell for between £500 and £800 in the sale at auctioneers Golding Young & Mawer on Wednesday, April 17.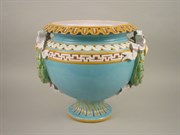 Auctioneer John Leatt said: "This jardinière is generally in good condition and a very decorative piece. It will be highly sought after in the American market and we expect a lot of interest on sale day."
Majolica pottery was developed at Minton's in the late 1840s by the Frenchman Leon Arnoux and Herbert Minton. Arnoux had accepted an invitation from Herbert Minton to help develop and produce Majolica at Minton's factory after meeting him in France in 1848.
Both men shared an appreciation of Italian Majolica and also of 16th century Palissy wares and they took their influences for their designs from naturalism, Japonism, Darwin's Origin of the Species, the revival of Renaissance and the Gothic. This resulted in unusual and whimsical shapes.
The new Minton Majolica pottery was introduced at the 1851 exhibition to great acclaim with Queen Victoria being one of its new admirers. Other potteries began making Majolica ware including George Jones, Wedgwood, Copeland and Royal Worcester.
At the height of its popularity, the Minton factory produced its greatest work, a fountain of George and the Dragon designed by John Thomas for the 1862 Exhibition in London.
By the 1890s, fashions had changed - art nouveau was now favoured over Majolica and its production had slowed.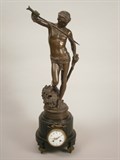 Elsewhere in the sale, a late 19th century French mantel clock mounted with a bronze statue of David after the sculptor Jean-Antonin Mercie (1845-1916) is expected to sell for between £600 and £800.
An early 20th century half-ship model of the steam trawlers Resino and Rado built by Messrs. Cook Welton and Gemmell of Hull in 1903 has an estimate of between £100 and £200. These scale models were produced by ship builders to show their customers what their ship would look like when built.
In a section of militaria, there is an Enfield 1853 pattern percussion rifle dated 1859 with original bayonet which is estimated to sell for between £300 and £500.
An 18th century long-case clock by John Butler of Lincoln is expected to sell for between £1,000 and £1,500. The clock is unusual because the arch of the dial has a painted automaton windmill.
Within a strong collection of early English ceramics there is a series of 23 late 18th to early 19th century Staffordshire portrait busts depicting various well-known figures of the day such as American president George Washington, the poet John Milton, the philosopher John Locke, the Prince Regent, Napoleon and John Wesley. Each bust is expected to sell for between £100 and £300.
The sale also includes several items of Royal Crown Derby, Beswick, Beatrix Potter figures, crested ware, vintage radios, tribal art, medals, rugs and carpets, Masonic memorabilia and jewellery including several sovereigns.
For more information about sales at Golding Young & Mawer log-on to www.goldingyoung.com or phone the Grantham saleroom on (01476) 565118 or the Lincoln saleroom on (01522) 524984.